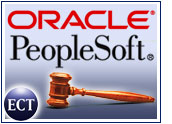 Oracle has prevailed in a lawsuit filed by the Department of Justice seeking to block its proposed acquisition of PeopleSoft. The decision, even though it can be appealed, removes a significant roadblock to the acquisition.
"This decision puts the onus squarely on the board of PeopleSoft to meet with us and to redeem their poison pill so that the shareholders can accept our offer," said Oracle Chairman Jeffrey O. Henley.
Oracle's tender offer for all of PeopleSoft's shares at US$21.00 per share in cash represents a premium of 17 percent ($17.95) to close of market on September 9, 2004, and a premium of 39 percent ($15.11) to close of market on June 5, 2003, the day before Oracle originally announced its bid to acquire PeopleSoft.
PeopleSoft issued a response to the press today, announcing that its board of directors will review the implications of today's ruling by the U.S. District Court. The company reiterated that PeopleSoft's board has considered and unanimously rejected each of Oracle's offers, including its current offer of $21.00 per share.
On May 25, 2004, the board concluded that the current offer was inadequate and did not reflect PeopleSoft's real value. PeopleSoft claims compensatory damages of more than $1 billion plus punitive damages in the company's lawsuit against Oracle, which is scheduled to go to trial before a jury in Oakland, California, on November 1, 2004.
PeopleSoft's complaint alleges that Oracle has engaged in unfair business practices, including a deliberate campaign to mislead PeopleSoft's customers and disrupt its business.
The Company also noted that the Department of Justice has 60 days to decide whether it will appeal the court's ruling to the Ninth Circuit Court of Appeals and that the review by the European Commission of Oracle's bid is ongoing.