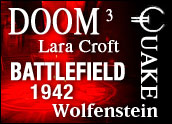 A host of gaming developers are using the Electronic Entertainment Expo to herald the widespread availability of direct-download games for mobile phones, a sign that gaming could join digital music and other services at the forefront of the mobile commerce trend.
Electronic Arts, which is touting eight new game titles at E3, as the gaming show is known, said it was working with major mobile phone carriers, including Verizon, to enable users to download the games and other titles to their mobile devices.
Yahoo, meanwhile, sealed a deal with carrier Sprint to offer multiplayer, Internet-style games to mobile devices, where Yahoo's instant messaging platform will be used to enable up to 10 players to connect and play against one another.
Massive Growth Expected
They were far from alone: Handset maker Kyocera said it had struck deals with game makers Sorrent and Taito to have pre-loaded and downloadable games available on its phones. And game publisher Gameloft said it would make multiplayer three-dimensional games available for multiple players through mobile Web devices.
Also, Nokia made a splash with a preview of the next generation of games for its N-Gage hand-held gaming device.
The activity comes as new research suggests massive growth in the mobile gaming market in the next five years. Informa Telecoms and Media said the mobile games market will be worth US$11.2 billion by 2010 with direct-to-phone downloads accounting for two-thirds of all revenue. By 2010, more than 20 percent of such revenue will come from online multiplayer games accessed on the Internet from mobile devices.
Telecom analyst Jeff Kagan said carriers are now increasingly enthusiastic about gaming as a revenue stream. He and other analysts say carriers recognize the need to diversify revenue streams amid pricing pressure and slowing growth of wireless subscriptions.
"Various types of mobile services are going to be a big part of the revenue and profit mix for carriers," Kagan told the E-Commerce Times.
While mobile gaming is growing faster in overseas markets, such as Korea, it is showing signs of catching on in the U.S. as well. Research by the Yankee Group suggests that mobile phone gaming in the U.S. alone will be worth $1 billion annually within three years and is on track to rack in about $380 million in sales this year.
Device Battles
The hurdles with mobile gaming are the same cited for many other forms of mobile commerce, from security to ease of use. In fact, in some ways the dropoff from PC to mobile device is most sharp in the realm of the high-resolution graphics and lifelike special effects of today's cutting-edge games.
However, game developers and content providers believe they can deliver a playing experience compelling enough to win a share of consumer gaming spending.
Gameloft President Michel Guillemot said recent advances in mobile color and resolution make realistic gaming possible.
"Not only has the quality of handsets advanced greatly, but carriers' networks have also improved, which allows real-time multiplayer to happen," he said. "Gamers can challenge each other from across the country and experience the same competitive thrill that exists with in-person challenges."
Though it includes 3-D games as well for the first time, the joint gaming effort by Yahoo and Sprint seeks to propagate more basic games but to use the competitive challenge of going against fellow gamers as a hook for users. That type of gaming experience has proven popular on the Web already.
Nonetheless, device makers are eager to continually ratchet up the gaming experience. Nokia, for instance, showed off its N-Gage dedicated gaming device at E3 but also promised to make more realistic gaming possible on its wide range of smartphones.