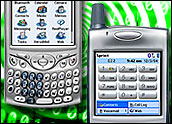 Hoping to elevate mobile Web browsing from its current status as a "second class experience," a massive technology consortium has promised to turn its focus to making Internet browsing from a hand-held device more convenient.
The World Wide Web Consortium (W3C), a group of some 350 technologies companies around the world, launched the Mobile Web Initiative (MWI), saying it wanted to make the mobile Web as easy to use as the one accessed by millions of people from desktop computers.
The effort has far-reaching implications for any number of Internet concerns, with the promise of making mobile Web browsing, and therefore various types of mobile commerce, or m-commerce, far more viable.
Small Screen, Keyboards
Analysts have long recognized that attempts to use existing Web technology on small, hand-held devices has created a dubious experience for many users. Web pages often translate poorly to small screens, making them unreadable or clumsy to manipulate. And the limitations of the tiny keyboards on many hand-helds is also seen as holding back mobile Web adoption.
"Mobile access to the Web has been a second-class experience for far too long," said Tim Berners-Lee, the director of the W3C and the man credited with the invention of the World Wide Web. "MWI recognizes the mobile device as a first-class participant, and will produce materials to help make the mobile Web experience worthwhile."
Working and Naming
The consortium said it would form two working groups to target specific areas that need improvement. A best practices working group will focus on writing guidelines, checklists and other practical advice to guide content providers on how to best develop Web content that works well on mobile devices. A "device description" working group will create a database of mobile device descriptions and how they work, that content and commerce companies can refer to as they develop their sites.
The consortium noted that it is already working on several other initiatives that could help speed mobile Web adoption, including standards for interoperability among devices and standards for XHTML.
The W3C said a range of firms, including France Telecom, Hewlett-Packard, MobileAware, Segala, Vodafone and Volantis, will fund the first wave of the effort.
Evan Smouse, HP's director of strategic technology, said the effort would speed the development of mobile content and "be a catalyst for the next generation of engaging communications experiences."
"This is an essential step in the evolution of the World Wide Web," he added. "We expect to see a rapid innovation cycle."
A Web Apart
Many analysts have been critical of the pace at which Web companies have adapted to the rapid rise of mobile Web use and its enormous potential for growth. However, there has also been criticism of proposals to build a shadow Web designed just for wireless users, a development that is being advanced by the Internet Corporation for Assigned Names and Numbers (ICANN), which is moving forward with plans to create a .mobi domain for mobile.
For their part, massive content providers, portals and search engines have all moved to address the mobile opportunity. However, there is a wide range of approaches emerging, raising the possibility of a host of different standards and platforms, which could in turn retard growth of the mobile Web by creating compatibility and interoperability problems.
"The appetite is there and it will grow," Web marketing analyst John Battelle told the E-Commerce Times. "The only question is how best to address the needs of consumers. The mobile Web experience so far has left a lot of people wanting."
Battelle and others said it was significant that carriers such as France Telecom are among the early backers of the push; having carriers throw their considerable resources behind the move to the mobile Web can only accelerate its development. "In the past, carriers have been lukewarm and uncertain about how they made money," Battelle said. "If they come around, the landscape will change."