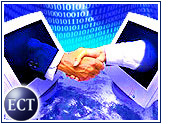 Fry's Electronics said Friday it has agreed to buy electronics e-tailerOutpost.com (Nasdaq: COOL) in a deal that includes an immediate US$13million loan.
The all-cash deal values Outpost shares at 25 cents each, for a total of about $8 million. Including the cash loan, the deal is worth about $21 million.
Sunnyvale, California-based Fry's said the agreement will take effect assoon as a loan made to Outpost by would-be merger partner PC Connection isrepaid. That payback is expected to take place Tuesday.
According to Forrester Research analyst Christopher Kelley, Fry's goal inmaking the deal is gaining access to Outpost's customer database, as was the case in Fry's recent agreement to acquire the now-bankrupt Egghead.com.
Names in the Game
"This shows the power and value of customer information," Kelley told theE-Commerce Times. "Yes, they get the technology and the expertise of thepeople already working there. But what they're really after, especially ina slow economy, is the customer dollars."
Fry's standing bid for Egghead includes a provision that if a certain number of customers opt out of having their data transferred to Fry's control, the deal will be called off. A similar clause is likely to be part of the Outpost deal, depending onthe details of Outpost's Internet privacy policy.
Outpost, which was founded in 1995, says it has about 1.4 million customers worldwide and that its site draws 4 million visitors each month.
Closing In
Kent, Connecticut-based Outpost said it will continue to operate independently from Fry's after the acquisition closes in the fourthquarter. Outpost chief executive officer Darryl Peck is expected to remain with the company.
For Fry's, which is privately held, the Outpost pick-up is the second takeover of a pure play e-tailer inas many months. Fry's $10 million agreement to buy the assets of now-bankrupt software pure playEgghead.com was signed in August and now awaits bankruptcy court clearance.
Privacy Frontier
When it comes to the transfer of online customer data, several Web sites have faced fire from privacy advocates and federal regulators.
Privacy concerns made news early on during the e-commerce shakeout, as thecustomer lists of Toysmart.com andother e-tailers became the focus of court battles. Since then, most onlineretailers have refined their privacy policies regarding the transfer of e-shopper data.
"It really raises some interesting privacy issues," Kelley said. "And iftoo many customers say they don't want their information handed over, thatcasts doubt on the value of the deal."
Late Entry
Fry's revealed last week that it had joined the bidding for the strugglingOutpost, which has been facing declining sales and a shrinking supply ofcash.
The announcement came days after Outpost and PC Connection revealedthat their merger plans had hit a snag. PC Connection said it would notwaive a condition of the agreement requiring that Outpost meet a minimumvalue level.
The PC Connection takeover would have been worth as much as $25 million,according to documents filed with the U.S. Securities and Exchange Commission (SEC).