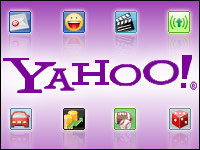 After the firing of Yahoo CEO Carol Bartz this week, the board is exploring a possibility of a sale, according to The Wall Street Journal, and intends to hire bankers for advice.
In coming months, there may be a sale of Yahoo's Asian investments, a purchase of a social media or content company, or partnerships that could help Yahoo get more money from its Web properties, the paper reported.
The once-prosperous company has had trouble competing for ad revenue with Internet giants Google and Facebook in recent years. Yahoo's second-quarter results were its worst since 2005. Still, Yahoo has accumulated numerous assets and Internet properties since its founding in 1995 that could make it a rewarding purchase for the right buyer.
Yahoo's search engine market share sits at around 15 percent, according to Searchengineland.com. This compares with Google's 67 percent market share and Bing's 28 percent.
Three years ago, Microsoft was interested in buying Yahoo for its search business. A purchase today could bounce Bing's search market share up 15 percent and give it a better chance to compete against Google.
Asian Assets
Yahoo's home page functions as a portal to provide access to the latest news and other Yahoo products, such as Flickr, an online photo album and sharing service. Yahoo Mail has been up and running since 1997. It is one of the few Web-based email services to provide unlimited storage.
Yahoo partners with content providers in a broad range of areas including Yahoo Sports, Finance, Music, Movies, News, Answers and Games. Yahoo Mobile offers access to various Yahoo products over mobile devices.
Yahoo is also known for its international and multilingual presence. The site is available in more than 20 languages. Yahoo's Asian assets include a 40 percent stake in the privately held Alibaba Group and 40 percent in Yahoo Japan. Investors hope that an eventual IPO from Alibaba's Taobao unit would provide a barrel of cash. Yahoo's Asian assets are estimated to be worth between US$9 and $13 billion.
Good Traffic for a Web 1.0 Company
Yahoo's difficulties go back several years. The company has tried to reinvent itself a number of times with at least two different rescue CEOs.
"Two failed turnarounds under a company's belt is about as much as a shareholder can take," Charles King, principal analyst at Pund-IT, told the E-Commerce Times. First it was Jerry Yang and then Carol Bartz. Yet Yahoo remains one of the Internet's best known brands."
Yahoo has a sizable number of portals — news, sports, finance — that drive a lot of traffic, King noted. Even so, Yahoo has to fight an uphill image battle.
"On the good side, they're still drawing a lot of traffic," said King. "One of the problems is, they're considered — like AOL — to be an old-fogey site when compared to Facebook and other sites that are driving traffic."
Three years ago, Microsoft made a move to buy Yahoo, which was then worth considerably more than it is today.
"Microsoft offered 45 billion in 2008. That was $31 per share," said King. "Now Yahoo's stock price is just over $14 per share. A fair value now would be roughly half of what Microsoft offered."
Yahoo's assets are said to be worth about $17 billion, he noted, and "with the value of their brand added in, Yahoo could argue its value is over $20 billion."
Can a new CEO come to the rescue? It's not that simple, suggested King.
"The turnaround at this point would be really difficult. Things have changed so radically over the last couple years in how people interact with online content, it's not going to be just a reorganization to save Yahoo," he explained. "They would have to change their DNA, and they would still come up against Facebook and Twitter."
At this point, the best possible option for Yahoo would be to get acquired by a company like Microsoft, which would integrate Yahoo's assets with its own, according to King. "If they get acquired, the company and its employees would have a chance to survive."
Anybody Want Yahoo?
While Yahoo's value has slipped, the company is still a major presence on the Internet. It is very well known. It may be like the once-bruised Apple — which was suffering before Jobs returned to leadership — still full of promise.
"Yahoo still has brand recognition and eyes viewing it. Maybe not as many as before, but they still have eyes," Jim McGregor, chief technology strategist at In-Stat, told the E-Commerce Times.
As for buyers, does Yahoo have the potential to be spiffed up and set right as a standalone brand?
"From an acquisition perspective, there are many things to consider," said McGregor. "Do you want to invest a boatload of money to compete with Microsoft and Google? Or, can you combine the assets with a complementary solution, such as an e-commerce solution?"
The latter could make more sense, reasoned McGregor, because Yahoo needs to have something distinctive going for it in order to do more than just survive.
"I think another industry powerhouse or IT service provider would find value in Yahoo," he said.