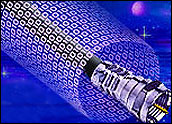 The number of active high-speed Internet connections in the United States grew by 34 percent in 2004 as adoption of broadband continues to grow at a fever pitch, promising to open countless new doors for content distribution and e-commerce.
The Federal Communications Commission (FCC) said in its semi-annual report on Internet connections that there were 37.9 million high-speed lines servicing homes and businesses in 2004, a 34 percent increase over 2003 levels, when just over 28 million connections were active.
Broadband uptake increased as the year went on, said the FCC, which based its report on filings from regional and national carriers. The increase was 17 percent during the second half of 2004 compared to a 15 percent increase in the first six months of the year.
Trickle-Down Effect
The FCC said residential and small-business growth was especially strong, jumping 36 percent to 35.3 million connections.
Rapidly expanding broadband usage has been attributed to a number of factors, including the rise of content requiring high-speed connections. For instance, AOL is drawing kudos for its live Webcast of last week's Live8 concert, with many critics saying the online offering far outshined television broadcasts.
Having more users connected by broadband will likely have a trickle-down effect over time, analysts say, clearing the way for downloadable and streaming video and other entertainment features, while at the same time giving rise to a new crop of online advertising methodologies that rely on rich media to get their messages across.
The data show the race between the telecommunications industry and the cable TV industry to provide high-speed Internet access remains fierce.
Last year, the number of DSL lines being turned on outpaced cable-modem service, but more users are still connected by cable. DSL service grew 45 percent to 13.8 million, while cable broadband connections expanded at a rate of 30 percent, to 21.4 million.
Infrastructure Overhaul
Satellite and other wireless options saw growth as well, but remain relatively rare, rising 50 percent to 500,000 connections. Fiber or power-line-based connections rose 16 percent to 700,000.
The battle over connections is seen as critical as the communications infrastructure undergoes an overhaul in coming years, with single bundles of coverage soon to include broadband phone calling, Web access and TV services all on the same platform.
"Today's connections don't dictate what the future will look like, but it's important for the various players to lock in subscribers now," telecom analyst Jeff Kagan told the E-Commerce Times. "The landscape is about to change completely, so what happens now is just the prelude."
Though there are still gaps in the geographical coverage of broadband, the FCC said its analysis shows that 99 percent of the U.S. population lives in ZIP code areas with at least one high-speed connection.
Competitive Concerns?
Despite the growth, some say the U.S. is at risk of falling further behind other countries in terms of the number of people with high-speed Web connections.
Kelsey Group analyst Greg Sterling noted that in the past several years, the U.S. has gone from 4th place overall to 13th place in terms of global broadband usage rankings.
That might, over time, make it a strategic and competitive necessity to equip more of the U.S. with high-speed access capabilities, either through extending private broadband networks — something the FCC might be able to do by loosening restrictions on network owners — or with new technology rollouts.
Meanwhile, options for wireless broadband continue to expand. Wireless broadband is seen by many as poised to take off — with Sprint announcing a broadband wireless network rollout this week.
Novel technologies, such as broadband delivered through electric power lines — an idea backed with a startup investment this week by Google — stand to dramatically increase the number of homes and offices once outside of broadband coverage areas that now have access options available to them.