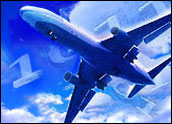 The Federal Communications Commission (FCC) appears poised to halt a lengthy review that could have ended the ban on mobile phone use during airline flights.
FCC Chairman Kevin J. Martin has begun circulating a motion to full commission that calls for the idea of expanding use of cell phones on planes to include the time planes are in the air to be tabled for the time being.
Martin cites technical concerns, including the potential for confusion in the existing wireless telecommunications networks. However, the idea has become a hot-button political issue as well, with FCC staff reporting receiving some 8,000 public comments on the idea, the majority urging the idea be grounded.
Multiple Possible Disruptions
Public input has cited both safety reasons relating to potential terrorism and — especially — the potential for annoyance, as airline passengers confined to a relatively small space could be forced to listen to the one-sided conversations of others in mid-flight.
The proposal, first floated late in 2004, may still have the support of several of the other four FCC members. Still, Martin's opposition could damage the chances that the proposal will be brought to a vote.
The Federal Aviation Administration (FAA) would also need to sign off on any policy change and is said to be focusing its own review on whether in-flight cell phone use could cause disruption of navigational equipment.
Tower of Power
The cell phone ban has not yet been placed on an agenda for any upcoming FCC meetings, said FCC spokesperson Mark Wigfield Friday. The commission can call meetings at any time and often meets on short notice, he noted.
Martin has concerns about the technical challenges of having the existing cellular network handle calls from planes, he told reporters following a busy FCC meeting Thursday in Washington — during which the commission said it would examine net neutrality issues and also paved the way for growth of wireless Internet access by saying providers were exempt from most regulatory requirements.
Existing networks are built to take calls on a single tower, with calls routed to the antenna closest to the caller in most instances. Because passengers would be up to 35,000 feet, or up to six miles, above the tower network, calls may be taken by several towers at once. In that scenario, a single call could eat up significant network capacity, possibly causing a drop in performance for users elsewhere, Martin argued.
"The record was still unclear as to whether it would create interference, so at this time it doesn't make as much sense to go forward," he said. The commission is considering a formal motion to halt the review, which has moved forward slowly since December of 2004, Martin added.
A technological solution to that issue had been proposed in the form of a so-called pico cell, a localized, in-plane cell network that would receive airborne calls and route them to the appropriate antenna. The FCC had gone so far as to auction off the air-to-ground wireless spectrum that would handle the calls. That auction was won by a firm called AirCell last year.
Ready for Takeoff
"The technology is here. It's ready to go," telecom analyst Jeff Kagan told the E-Commerce Times. "The question is are we?"
Both sides bring strong arguments to the debate and many people may themselves be conflicted about the right answer, he continued. "We all see both sides of the coin," Kagan added. "We all want access but we don't want to be bothered by our neighbor screaming into the phone."
Current rules allow passengers to use cell phones when planes are at gates awaiting takeoff. Commercial flights all currently include an announcement noting that it is illegal to use wireless devices while in flight.
The reasons behind the original ban included potential interference with navigation equipment, issues that have since been resolved since cell phones, plane radar and related equipment use different parts of the wireless spectrum. In addition, the current generation of cell phones use a fraction of the power of earlier phones, which were more likely to cause problems as a result.
Dividing Passengers?
While in-air cell use would be a boon to business travelers and others who could make more productive use of their time in the air — and who are responsible for well over half of the revenue collected by airlines — the general public has generally taken a sour view of the proposal.
A 2005 poll conducted by USA Today found that 63 percent of Americans supported keeping the current ban on in-flight calls in place. Groups representing airline passengers and flight attendants have both called the FCC's attention to that public sentiment during its proceedings.
Airlines could also benefit by charging a fee for allowing in-flight cell calls or in-flight Internet usage, a service some airlines have begun to roll out overseas.
Eventually, the answer may boil down to dividing talkers and non-talkers on a plane, much the way planes once designated smoking sections. "Maybe you put talkers on one part of the plane or give them a place to walk and talk, but barring that, no matter which solution is chosen, some people are going to lose out," Kagan noted.
One upshot of the pullback by the FCC may be renewed focus on in-flight Internet access, which still requires technological solutions but eliminates much of the social drawbacks of cell phone use.