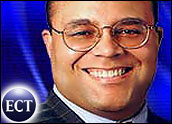 Federal Communications Commission (FCC) Chairman Michael Powell, who oversaw numerous controversial decisions, many of which were aimed at freeing e-commerce and telecommunication firms from regulation, is reportedly resigning his post.
The FCC had no official comment, but widespread reports indicated his resignation would be formally announced sometime today.
His departure would mark the end of a busy and sometimes tumultuous tenure that saw Powell lauded by free-market supporters and criticized by consumer groups as he voted and lobbied to free markets from regulation wherever possible, with his imprint left on the broadband and wireless spaces in particular.
Lasting Impacts
A host of moves by the FCC during Powell's four years at the commission will likely have lasting impacts on technology markets, analysts say.
For instance, the FCC ruled that states could not regulate voice over Internet protocol (VoIP) calling services, a position that Powell felt strongly about. In fact, Powell argued for a long view on all broadband measures, arguing last fall that weighing regulation meant "considering the future of electronic and optic communications for many years to come."
In the wireless space, the FCC let two major mobile carrier mergers proceed, despite calls from consumer advocates that the mergers would lessen competition and drive up costs in the long run. The commission cleared the way for AT&T Wireless and Cingular and also for Nextel and Sprint to merge, creating a mobile industry that is now dominated, along with Verizon, by three massive carriers that dwarf most other firms in the space.
Elsewhere in the wireless space, the FCC also oversaw a large-scale redistribution of spectrum licenses, many of which had been reclaimed by the FCC from failed wireless startups. Those sales also helped to redraw the competitive landscape in the wireless communications field in the process and was also not without controversy.
Critics, Supporters
It was not clear what Powell, who is 41 and whose father is outgoing Secretary of State Colin Powell, will do after his resignation takes effect, but speculation was that he would return to private law practice in the Washington, D.C., area.
Free-market groups were quick to praise Powell as he prepared to leave his post. The FCC will continue to be controlled by a Republican majority after President Bush names a successor, and analysts were quick to predict an equally free-market-minded nominee would be put forward by Bush.
Progress & Freedom Foundation President Ray Gifford credited Powell with "articulating the critical importance of embracing the changes inherent in the digital age."
"He always put consumers first, recognizing that the best way for the government to serve them is to ensure that it not prevent the emergence of a world of choice in platforms and services," Gifford added.
Some consumer groups have taken the exact opposite stance, however, especially when it came to issues of competition within the telecom space.
Gene Kimmelman, senior director of public policy for Consumers Union, said one of Powell's legacies will be overseeing the dramatic reduction of major wireless carriers.
Concerns About Competition
The FCC and the Bush administration in general supported a policy that said "three companies is enough for wireless competition," Kimmelman said. "We fear the cell phone market will start to function the way the cable and satellite market has, where prices go up year in and year out due to lack of competition."
Smaller, regional phone companies and others who had hoped the FCC would help level the playing field with the telecom giants were also critical of Powell during his term.
Independent analysts largely came down on Powell's side, saying that while a free-market approach isn't always the right one, it fit the telecom, broadband and wireless industries at this time in their evolution.
Telecom Landscape Changing
Telecom analyst Jeff Kagan said there won't necessarily be less competition, just different competition in the telecom world of the future.
"Yesterday we saw separate companies competing in different segments, tomorrow we will see fewer, larger companies competing in all the segments," he said, pointing to VoIP and broadband television services as examples of areas where competition will be increased despite, and in some cases because of, industry consolidation.
"The telecom landscape is changing dramatically, and it's the hands-off approach of the FCC that is allowing the industry to find itself in a new world of technology and economics," Kagan said.