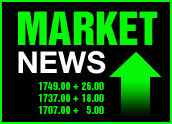 A sharp drop in crude oil prices helped lift stocks slightly today, but most investors stayed on the sidelines, preferring to play it safe ahead of tomorrow's election.
Crude oil futures fell more than US$2, or 4 percent, during the trading session before rebounding slightly to close at $50.13 per barrel on the New York Mercantile Exchange, a full $5 below the record high set less than 10 days ago.
The price dropped after a report showing that Iraq oil production had been boosted significantly and amid news accounts suggesting that a threatened strike in Nigeria would likely be averted. Some analysts said speculators might have been wagering that the Democratic candidate might emerge victorious tomorrow, helping to ease global tensions and lower oil prices over the long term.
Slight Rise
Whatever the cause, the drop gave stocks a boost, with the Dow gaining 26.92 points, or 0.27 percent, to 10,054.39. The Nasdaq climbed 4.88 points, or 0.25 percent to 1,979.87 and the S&P 500 gained less than a point to close at 1,130.51.
Also moving the market was word that Oracle had raised its offer to buy PeopleSoft to $24 per share from $21 and set a November 19 deadline to obtain enough shares to close the deal. That sparked a sharp run-up in PeopleSoft stock, which gained more than 10 percent on the session.
On the other hand, shares of drug maker Merck lost more than 9 percent on the day after a Wall Street Journal report suggesting the company downplayed the health risks of its arthritis drug Vioxx, which has since been pulled from the shelves.
Economy in Focus
A steady stream of economic data is due out this week, with some key numbers, such as Friday's employment report for October, coming too late to have an impact on tomorrow's election.
Today, the Commerce Department said consumer spending rose 0.6 percent in September, up from a revised estimate of 0.1 percent in August. Personal incomes, meanwhile, rose 0.2 percent, just below forecasts.
Meanwhile, a report from the Institute of Supply Management said its manufacturing index of industrial activity for October fell slightly to 56.8 percent, down from 58.5 percent in September. A rise was forecast, but any number over 50 represents an expansion in activity.