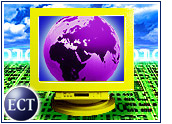 According to a report released by the European Commission (EC) in late March, less than 5 percent of all European Internet users shop regularly on the Web. Surprisingly, that may be a good thing for e-commerce on the continent.
It may be taking Europeans longer than Americans to gravitate toward online shopping, but the numbers also mean that European dot-coms have not had as far to tumble. With European e-commerce lagging some 18 months or so behind that in the States, the U.S. dot-com shakeout has served as a highly visible business lesson for European e-tailers — helping to prevent them from making many of the same mistakes.
"Europe's fall with the dot-coms wasn't as painful as it was in the U.S," Gartner European research director Mark Raskino told the E-Commerce Times.
"The number of overhyped dot-coms didn't have the same time to gestate," Raskino said. "[Europe's] Old Economy companies have digested the opportunity a little bit more carefully; they're taking a longer-term approach. They've looked at the U.S. market, and can see it takes five years to build a business online, so they haven't wasted all those resources up front."
Attendez, S'il Vous Plait
As a result, the very barriers that have hindered widespread penetration of e-commerce in Europe may turn out to be its saving grace — just as the continent becomes poised to take advantage.
Until last year, the European market was severely hampered by the lack of telecom competition and Internet access using flat rates. However, according to the EC, the number of European households connected to the Internet increased by 55 percent between March and October of last year, and Europe now has more users than the United States.
Internet access prices fell by an average of 23 percent compared to the year-earlier period in Europe, and by as much as 47 percent in some EU countries, the EC said.
Lento pero Seguro
"The transition of control to existing, Old Economy businesses has already happened — some of these players are picking up assets from the failing pure plays," Raskino said. "But the Old Economy companies recognize that the world is a multichannel place, as well as the need for integration between on/offline channels."
However, many European e-tailers still lack the infrastructure and logistics integration needed to provide consumers with an exciting value proposition for buying online.
The result: like the U.S., it is the traditional offline powerhouses that have the resources to move online, only … more … slowly.
Bisogni Speciali
The European market also suffers from a "lack of novelty" factor when it comes to the Web, according to Raskino. Unlike the U.S., Europeans have had access to interactive information services since the 1970s, in the form of teletext services over the TV and telephone mini-tel systems.
Additionally, Raskino said that Europeans have been promised high-speed mobile capability, but are still waiting to see much of it delivered. Skepticism toward new technologies exists across the continent.
"Consumers have had time to mature," Raskino said. "They expect to see good logistical operations, and integration between online (and) offline channels."
A U.S. e-tailer attempting to make inroads overseas still has to contend with regional taxes, language barriers and shipping logistics, making it much easier for most Europeans to shop their own brands.
Jolly Good Show
However, while achieving e-commerce success in Europe may take longer, the patient are likely to be rewarded. For one thing, Europe doesn't suffer from the same online privacy issues that the U.S. is bombarded with, Raskino said. European data protection laws already in place have dramatically reduced privacy issues as a barrier to online shopping.
Some of the success stories are already apparent. According to Raskino, a number of European banks already have over 1 million online Web banking customers.
Additionally, the U.K.'s No. 1 online grocer, Tesco, has managed to avoid the problems that plagued similar U.S. ventures like Peapod. By building slowly through the use of local grocery store deliveries, rather than by spending large overhead to set up their own warehouses and logistics, the company took less risk and is now getting the financial payback from its patient, steady growth.
"We know we're behind the game but we're slowly doing the right thing," Raskino said of Europe. "Even though there's a threat of a U.S. recession impacting Europe, I expect to see the old economy retailers slowly but steadily grow online Web commerce volumes. Understanding which channels matter in which customer contexts is the way to win."