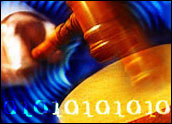 The European Union (EU)passed a controversial law Thursday designed to boost consumer confidence ine-commerce by establishing rules about where lawsuits against Internet merchants can be filed.
The Brussels I regulation, which was reportedly hammered out as a compromisemeasure, allows consumers to use the local courts and consumer protection laws in their home country to sue online retailers, even if those retailers are based in another European country.
The measure also clears the way for local lawsuits even if the foreign Web site does not specifically target the home country of the consumer.
Local Remedy
European Commission spokesperson Leonello Gabrici said that a low level of consumer confidence is "the main thing holding up the development of e-commerce."
The proposed regulation is intended to assure consumers that they will have a remedy available in local courts, should a dispute arise with an Internet merchant.
Entry Barrier
While the EU said the new measure will help solve those problems, someanalysts expressed concern that the new rules, which take effect in March,could prevent small and mid-sized firms from practicing e-commerce acrossthe union. In essence, they said, it will force firms to have lawyersfamiliar with the courts in each of the 15 countries active in the EU.
"For large companies it isn't a problem, because they have offices andlawyers in all EU countries," Wim Mijs, a vice president at Dutch bank ABNAmro, told reporters.
However, smaller companies will face higher legal and insurance costs, he added, which means that "venture capitalists might be a little more cautious about investing in a European Web venture."
Market Value
Europe is an increasingly important market for many e-commerce firms fromthe U.S. and around the world. According to a recentreport from Forrester Research, e-tail sales in Europe, which have beenslower to take off than in North America, will grow from US$2.8 billion lastyear to $170 billion in 2005.
E-tail sales have been slower to gain a foothold in Europe, analysts say, inpart because national borders and local laws have become apatchwork of taxation and shipping obstacles.
A study last month from Andersen Consulting predicted that Europeane-tailers would suffer many of the same shipping setbacks that embarrassedU.S. online merchants during Christmas season last year. The study foundthat nearly 40 percent of orders placed were never filled.
Summit Planned
The EU's new Brussels I regulation will likely become part of a larger debate about international e-commerce when the U.S. and its trading partners meet in the spring of 2001 for a global summit. The summit leaders plan to discuss theissue of which country's courts have jurisdiction to hear international disputes arising out of Internet transactions.
The U.S.-based Internet Advertising Bureau is reportedly critical of EU regulation and has askedthat it not be formally enacted until after the global summit takes place.