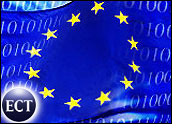 Regulators in Europe have given the green light to a planned Internet joint venture between NBC Universal and News Corp.: a Web video repository seen as a competitor to Google's YouTube.
The yet-to-be-named venture — first announced in March following weeks of speculation — is expected to launch sometime this summer and, at least at first, will be an outlet mainly for video content from the two media companies.
European Commission regulators had been reviewing the proposed plan for possible antitrust issues since shortly after it was announced, but said it found none. The commission also said it did not receive any complaints from Europe-based businesses in the same field with concerns about their ability to compete with the venture.
The two media companies plan to use the site to distribute a host of video from their various holdings, including sitcoms, hour-long dramas, full-length movies and news broadcasts.
The site is expected to serve video to other Web sites as well, including Yahoo, AOL, the MySpace social networking site owned by News Corp., and MSN, the portal owned by Microsoft, which is already a partner with NBC in the cable channel MSNBC.
Coming Soon
NBC and News Corp. have said their site would be different from YouTube, the video-sharing site Google bought last year for US$1.65 billion. Instead of focusing on user-generated video content, as YouTube has traditionally done, the site will feature snippets and full-length versions of commercial content.
When they first announced it, the companies said they had already lined up several major advertisers to support the launch, including Cadbury Schweppes, Cisco, Esurance, Intel and General Motors.
Still, Google clearly has positioned YouTube to become a video distribution hub, one that goes well beyond homemade music videos and short videos. Google has aggressively courted content owners in an effort to win licensing agreements to distribute content — or allow users to incorporate licensed content into their own videos.
That effort has yielded mixed results, with some major media companies balking at Google's offers. Most notably, Viacom has hit Google and YouTube with a $1 billion lawsuit alleging that millions of Viacom-owned video clips were downloaded and that Google made money by selling advertising alongside them — without compensating Viacom.
Direct Competitors?
The two companies may believe they can convince more of their fellow content owners to distribute their online video through their site, noted Forrester analyst Josh Bernoff, because they better understand and respect the copyright and financial issues involved with being a traditional media company reaching into the Web for new sources of viewers and revenue.
On the surface, the sites may not appear to be direct competitors. YouTube, at least until now, has been more a social-networking site and less of a video repository, he told the E-Commerce Times.
Still, Google clearly has designs on being a factor in online video, with its best chance likely lying in its ability to create a video search tool that actually works, Bernoff said. "Early video search tools have left users feeling disappointed," he said. "If Google can make that work, it will have found itself a place in the future of Web video content."
YouTube helps with that effort by providing Google millions of hours of video on which it can test its search algorithms and related tools such as image- and music-recognition functions.
Matter of Time
The networks' site will have a strong lineup of content to offer Web viewers, from dramas such as "Heroes," "24" and "House" to popular reality shows such as Fox's "American Idol," as well as popular comedies such as "The Simpson."
Content will be ad-supported, the companies have said, suggesting viewers will be able to watch content for free. Like YouTube, the site is expected to work with all operating systems and browsers. MySpace users will also be able to embed content from the site into their home pages.
The site appeared to be built from the outset to do more than just host video and attract visitors to watch and share them, with the capabilities being built in from the start to make it a distributor of content as well, noted JupiterResearch analyst David Card.
A key factor may be whether the companies can entice other networks to join in, Card noted. Viacom was reportedly involved in the talks that preceded the announcement of the site, but had dropped out before the details were finalized.
"Media companies don't have a great track record of working together to put out Web content," he told the E-Commerce Times. Still, giving users the ability to program their own content channels could be a lucrative move, since each user's playlist will become a potential advertising site.
The approval comes as News Corp. and founder Rupert Murdoch are busy making waves in other parts of the media landscape. Murdoch's talks to buy Wall Street Journal parent Dow Jones appear to be heating up, and Murdoch has reportedly offered to turn over MySpace to Yahoo in exchange for a sizable ownership stake in the portal.