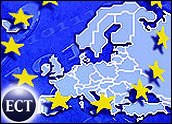 The European Union today expanded its investigation into Intel's alleged anticompetitive practices, filing formal charges that demand explanations from four countries that require purchased computers to contain chips that only Intel can offer.
The European Commission said such requirements might violate European law on public procurement, but it is not formally accusing Intel of violating the rules.
AMD sparked the probe when it complained about EU procurement tenders in France, the Netherlands, Finland and Sweden. The Intel competitor also has complained about the leading chipmaker's loyalty rebates and exclusive purchasing agreements.
"The bad blood and legal wrangling between Intel and AMD goes back a decade," Jonathan Eunice, an analyst with the research firm Illuminata, told the E-Commerce Times. "There are some very notable lawsuits [between] the two companies and such moves are not unusual in the high-tech world."
US Documents
Analysts did not speculate on the veracity of AMD's latest allegations, but the company's efforts to force Intel to turn over U.S. documents in an old antitrust case to EC officials demonstrate its fervor in the battle.
A federal judge on October 4 rejected an AMD motion that the chipmaker felt would prove alleged Intel threats to retaliate against customers that do business with AMD.
"The breadth of AMD's application, when considered in light of the EC's determination that the requested documents are unwanted and unlikely to be reviewed, weighs against granting any portion of AMD's application," U.S. District Judge James Ware wrote in his decision, Ware noted that AMD appeared to intentionally keep its request broad by not using the words "Europe" or "European" in its motion.
Meanwhile, AMD is fighting a different battle against Intel stateside. AMD is claiming its dual-core Opteron processor will boost performance 30 to 55 percent over single-core Opterons. The company plans to release the innovation ahead of Intel's latest chip.
Impact of Allegations
Could AMD's latest allegations be designed to besmear Intel to gain its own competitive advantage with this new product in the EU? Neither AMD nor Intel could be reached for comment.
However, Illuminata's Eunice said the EU actions may indeed hurt Intel. "All of these corporations want to be seen as glowing examples of good corporate citizenship," he said. "It doesn't help when someone accuses you of playing under-the-counter tricks. It has to tarnish the Intel brand at least a tiny bit."
Still, Eunice doesn't predict any impact on consumer or corporate buying behavior from some bad publicity in a few European nations — unless the allegations turn out to be truthful.
"If anyone at Intel is shown to have favored one vendor over another," he said, "then there may be some ammunition that people in the supply chain get use to negotiate with in the future."