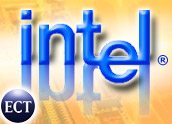 Agents from the European Commission (EC) have conducted surprise inspections of several offices of leading computer chip maker Intel and other high-technology firms, apparently seeking evidence of antitrust behavior.
Intel said that in keeping with company policy, it was cooperating with investigators. However, the company also emphasized through a spokesman that it was confident it was conducting business in a way that is "both fair and legal."
The inspections, billed as raids by some, were conducted at Intel offices in Swindon, England; Munich, Germany; Madrid, Spain; and Milan, Italy. Also searched were several unnamed computer makers and distributors, apparently those who use Intel products in their PCs.
A spokesman for the European Union confirmed that the searches were conducted as part of an "ongoing competition case" involving Intel's business practices.
Intel investors appeared to take the news in stride, with Intel shares down just 6 cents, or 0.2 percent, to US$27.67 in early trading today after the news broke.
Though EC officials would not comment on the specifics of any case involving Intel, the fact that the European Union is looking into how Intel conducts business comes as little surprise given that AMD in recent weeks has filed an antitrust suit against its larger rival, claiming Intel manipulated markets in a way that hurt consumers.
Inside Intel
In fact, part of AMD's statement announcing its private antitrust suit was a call to action for regulators. "We encourage regulators around the world to take a close look at the market failure and consumer harm Intel's business practices are causing in their nations," AMD Executive Vice President Thomas McCoy said.
CEO Hector Ruiz added: "Whether through higher prices from monopoly profits, fewer choices in the marketplace or barriers to innovation, people from Osaka to Frankfurt to Chicago pay the price in cash every day for Intel's monopoly abuses."
AMD is hopeful that other regulators will follow the lead of Japan, which reached a deal to have Intel follow a number of recommendations laid out by that country's Fair Trade Commission, including ending practices of giving favorable pricing to PC makers who do not buy rivals' chips.
The EC's antitrust wing has developed a reputation for seriously and aggressively investigating complaints of anti-competitive behavior, particularly in the technology realm. The most high-profile case involves Microsoft, with complaints brought by RealNetworks and others sparking an investigation and eventually stiff penalties against the software giant, including the largest-ever antitrust fine in European history.
The EC has been especially protective of European businesses, often moving to intervene when it feels that larger overseas companies leave the smaller homegrown tech firms no room to maneuver in the marketplace.
Analysts note that given its vast market share — pegged at around 82 percent in recent quarters overall and near 90 percent for Windows-based PCs — Intel has not faced the same level of scrutiny that others with similarly dominant market shares, notably Microsoft, have had to endure.
Some analysts speculate that's because the long-term trend has been for computer chip prices — and therefore the prices paid by consumers for computers themselves — to go down.
Long-Range Impact Seen
Most analysts believe that even if Intel faces antitrust action from European or U.S. regulators as well as the private lawsuit from AMD, any fallout will be long-term, with much less short-term impact on the chip market or the PC industry as a whole.
The Microsoft case underscored the fact that it can take years for such cases to play themselves out. As in that case, technical issues are likely to bog the process down, as judges and others are given crash courses about the ins and outs of the chip business.
"I see a long process that has little impact on the chip market for the foreseeable future," Gartner analyst Martin Reynolds told the E-Commerce Times.
However, action by European regulators would ratchet up the stakes by bringing them into what is now a private dispute and changing the dynamic significantly. However, analysts point out that the fact that an inquiry is under way does not necessarily mean a case will brought against Intel.
For AMD, the decision to sue came after it had seen some recent gains on Intel's market share slip back to its rival. AMD had made a splash by getting its 64-bit chips to market ahead of Intel, but the larger company has quickly caught up and is said by analysts to be meeting that challenge.