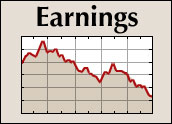 EMI Group, the UK-based record label that is awaiting a takeover by a private equity firm, posted lower revenue for its second quarter as CD sales plunged but indicated its DRM-free music experiment with iTunes is off to a fast start.
EMI's revenue was down 5.1 percent overall, in line with its own forecasts. The company cited "tough market conditions experienced in the recorded music market" for the decline in sales.
Revenue from the EMI Music Publishing division, which licenses music in its catalog, was up about 12 percent, due in part to the settling of several outstanding lawsuits. Music sales in physical media, primarily CDs, plunged nearly 20 percent, however.
Mirroring Overall Sales
Those trends mirror overall music sales, with the industry seeing declining sales of CDs being replaced by rising digital sales that often involve purchases of single song downloads. Still, EMI — the third largest record label by sales volume — has long been seen struggling the most among the major labels to deal with the changes in the industry.
The report comes just weeks after EMI managed to consummate a takeover deal after months of failed attempts to find a merger partner that could past muster with regulators, particularly those in Europe.
Fellow record label Warner Music Group said last week that its board voted not to make a counter offer, clearing the way for Terra Firma Capital Partners to acquire EMI in a deal worth about US$5 billion.
Going Digital
EMI and Apple made a splash in late May when Apple said it would make the entire EMI digital catalog — which includes artists such as Coldplay and the Rolling Stones — available for download in two formats on the iTunes Music Store.
iTunes users can choose either the traditional download that includes the FairPlay digital rights management (DRM) software — which limits how many times songs can be copied and how many devices it can be played on — and a DRM-free version that carries a higher price tag but gives consumers more freedom.
The DRM-free EMI music sells for $1.29 per track, compared to the usual 99 cents.
Though EMI did not give specific figures for DRM-free music sales, it said that early revenue indications from the iTunes partnership are encouraging.
Overall, digital music sales were up 26 percent year-over-year, while revenues from physical media dropped 19.8 percent.
Without providing details, EMI also said cost savings from previously announced restructuring efforts "are being delivered on budget."
Paving the Way
The rest of the music industry is likely watching closely to see how the EMI-iTunes partnership to do away with DRM works out — though it may take some time before it's clear how the experiment is going, JupiterResearch analyst Mark Mulligan told the E-Commerce Times.
While early reports on download activity have been good, doubters will be watching for signs that piracy is on the increase over time as more of the DRM-free music finds its way into consumers' hands.
Apple has said that it hopes to have up to half of its entire catalog available in the iTunes Plus DRM-free format by the end of the year and eventually to give users the option of buying all of their digital music that way.
Early indications are that buyers who pay a premium may be as interested in the higher quality of the music as they are in being able to move the music to various devices.
"It remains to be seen if Apple can use EMI to entice the other labels toward DRM-free downloads," Mulligan added.
The Digital Download Market
Apple has long said that it would be happy to do away with DRM restrictions — which some European regulators say may be necessary to comply with local laws — but that music labels require they be kept in place.
One strong motivator for other labels to follow EMI's lead will be if the label can increase its share of the digital download market, Yankee Group analyst Mike Goodman told the E-Commerce Times.
"They are in a position of letting EMI take the early risk and can watch from the sidelines to see what happens," Goodman said. "If it starts to look like it's paying off and there's not a huge spike in piracy, the others are a lot more likely to make the leap."