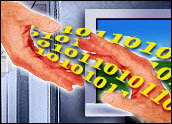 In the latest twist to come to the rapidly changing music industry, major label EMI said it would license its entire catalog to peer-to-peer network Mashboxx.
The deal is the latest boost for Mashboxx, one of the first P2P firms to be built from the ground up as a legitimate music delivery network. Mashboxx was founded by former Grokster CEO Wayne Rosso and has yet to go live.
Sleeping With the Enemy
The partnership is also the latest attempt by the music industry to harness the power of P2P networks, which have for years been the enemy of the industry enabling widespread sharing of unauthorized music downloads.
EMI said Mashboxx will enable users to preview and buy copyrighted music content from EMI artists from within existing P2P networks, letting fans use the technology they have embraced in underground settings for more legitimate purposes. EMI said it will make its entire U.S. catalog available at first, with its overseas collections rolling out as Mashboxx expands its reach over time.
"Legal peer-to-peer services which offer consumers a great user experience and which compensate creators appropriately are good for music fans, good for artists, and good for the digital music market as a whole," said EMI Music North America CEO David Munns. "When it rolls out, Mashboxx will be a no-obligation way for fans to really immerse themselves in discovering music."
Munns said EMI believes the approach can be a profitable one for the label as well as artists. "It has the potential to be a very good revenue stream for those who make their living from creating and investing in music," he added.
Blazing a Trail
The move comes less than two weeks after Kazaa, the Australia-based P2P service that was at one time the most popular such network, agreed to a US$100 million settlement with music labels that had alleged it enabled illegal file sharing.
That deal should enable Kazaa to hook up with labels in order to become a legitimate outlet for music distribution as well, though there are many who are skeptical about whether such a transformation can actually take place.
EMI believes Mashboxx can help it by exposing music fans to more of its songs and artists. The service will include the option of playing full length tracks up to five times for free before purchasing them.
That feature is key, EMI said, citing data from the NPD Digital Music Study that showed that 75 percent of P2P users cited the ability to sample previously unknown music as a strong motivator for using P2P.
The service will also feature direct downloads that enable users to burn CDs and copy songs onto portable music devices.
Big Turnaround
The transition from underground technology to legitimate music download platform will not be an easy one for P2P to make, JupiterResearch analyst David Card said.
"It won't be easy to turn a file sharing network into a viable business," he said. For starters, he noted that competition is "brutal," with numerous offerings in the marketplace and new ones springing up often.
Existing P2P networks bring their user bases to the table and Mashboxx hopes to tap into that asset by creating something of a legitimate gateway to EMI music that could — theoretically, at least — be accessed from other P2P locales.
Attempts to legitimize P2P also face an uphill battle because many users have come to expect that music will be theirs for the asking. "Converting free users to paid users will be tough," Card added.