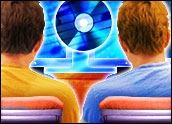 Adding a new twist in the music industry's search for the right way to sell digital tunes and prevent piracy, EMI Music said Tuesday it has agreed to become the first label to make its catalog available on an ad-supported peer-to-peer network.
EMI said it would make music from its catalog available on Qtrax, which bills itself as the world's first ad-supported, legitimate P2P service.
Two-Tiered Strategy
Qtrax, which will be operated by LTDnetwork, will offer two levels of service for music users — a free, ad-supported version that will limit users to five listens of any given track, and a premium level that offers paid downloads on a per-track or subscription basis for those who want to own their music.
The companies said the two-tiered business model is intended to attract a broad base of consumers to try out the service, and then graduate those consumers to purchase music permanently or subscribe.
Financial terms of the deal were not disclosed.
The gambit relies on users' familiarity with the ad-supported music model, the same one that has long supported free broadcast radio, though one increasingly under pressure from subscription satellite and from other forms of readily available digital music.
Music for the People
EMI's catalog is extensive and varied, with classic rock artists such as The Beatles, The Rolling Stones and The Beach Boys alongside contemporary acts such as Korn, Coldplay and Massive Attack.
EMI CEO David Munns said Qtrax is just one of several efforts under way at the label to offer a greater variety of ways to access its music.
"We think that any ad-supported model should be offered in a way that maintains, or even enhances the value of music, and we believe Qtrax does that by offering a good consumer experience and significant up-selling opportunities," Munns said. "Our collaboration with Qtrax will give us great consumer insight and help us gauge the boundaries between sampling and purchasing music. Ultimately, the feedback we get from Qtrax will help EMI be more responsive to consumer demand."
Munns said the service will also help reduce piracy and "ensure that our artists are compensated for their works."
Allan Klepfisz, President and CEO of Brilliant Technologies — the parent company of LTDnetwork — said the approach lets the label tap into the fast-growing online advertising segment, where revenues grew by nearly 40 percent in the first quarter of 2006.
Though no specific time frame for launch was given, the companies said Qtrax could be available in test phase "later this year" and will be launched first in the U.S.
The free version of Qtrax will use the network's own proprietary file format, known as "mpq." Each time users listen to a song for free, they will be offered the chance to buy the track. The subscription tier will use Microsoft's Janus DRM technology and will enable songs to be transferred to compatible MP3 players.
Twist — and Shout?
Ad-supported P2P represents a "clever twist on an old model," JupiterResearch analyst Todd Chanko said.
While consumers have plenty of experience with ad-backed music from traditional radio, Chanko said, EMI may face an uphill battle in convincing users to switch to Qtrax.
"If they're already using P2P, why forego free, pirated music they can keep forever for limited duration free music?" he asked.
Still, he said EMI is likely risking little — though it probably will make an investment to help develop Qtrax — and is eager to maximize its exposure to digital downloads, a fast-growing part of its business, which is seeing year-on-year decreases in physical CD sales. "It has no option but to explore P2P and other digital opportunities."
Whether the approach spreads remains to be seen, though others have begun to try the free music approach as a lure to bring in potential subscribers and buyers. Napster recently made its basic service free, though as in Qtrax, listeners are limited to how often they can hear a song and what they do with it. Other legitimate P2P networks are also active or in the works, with Mashboxx the most well-known of them.
The music industry has taken an aggressive approach to snuffing out P2P networks, successfully shutting down some of the largest, first by stifling the original Napster and more recently by pushing Grokster to shut down after the labels won a series of courtroom victories.
Such victories will prove to be Pyrrhic ones for the music industry, however, as new networks and technologies arise to take the place of those shuttered.
A pure P2P distribution approach could be valuable because it leverages users to distribute music, which could lend itself to creating the kind of buzz that helps build excitement about both technology and music among young consumers, Yankee Group analyst Michael Goodman said. "It remains to be seen whether people will flock to a sponsored site," he added.