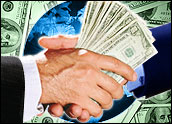 Information management and storage vendor EMC yesterday announced a definitive agreement to acquire a document imaging technology provider.
EMC will purchase Captiva Software for US$22.25 per share in cash, or approximately $275 million net of Captiva's cash balance.
EMC said input management software — which converts paper-based information to digital formats — has become increasingly strategic as companies electronically capture, digitize and categorize more of their information. Captiva focuses on the early stages of information life cycle management — information capture, digitization and categorization.
This acquisition represents a natural extension to the EMC Documentum enterprise content management platform and adds existing integrated technology to the EMC software portfolio, according to the companies.
EMC's President Optimistic
EMC President Dave DeWalt said moving forward, this acquisition will enable the company to deliver further integrated solutions for input management and image processing applications, and will also serve as an increasingly important element of EMC's enterprise archiving strategy.
"EMC's enterprise archiving framework will enable customers to benefit from holistic policies for classification, retention, retrieval, search and access across all information types — structured, unstructured and semi-structured," DeWalt said.
As a result, DeWalt said customers will realize significant cost savings through unified archiving support for production applications, be better prepared to respond rapidly to legal inquiries, and benefit from a consistent and integrated archiving and retrieval approach for all information.
Developing Captiva
In addition to tighter integration with Captiva, EMC said it would continue to develop Captiva software as an open platform as it does with all EMC multi-platform software, including the underlying content management platform.
Captiva's input management software optimizes the capture and management of information. Captiva software products address the front-end of traditional processes by digitally capturing documents, forms, reports and other types of physical media (using scanners, fax machines, or electronic means) and extracting the business critical information contained therein.
Business rules and decision processes are then automatically applied to ensure accuracy, and the results are exported transparently into ERP, accounting, credit, document, and content management information systems.
EMC said these systems then use this business-critical information to drive key business processes such as loan processing in retail banking, policy and claims management in insurance, accounts payable, customer correspondence, new account processing, etc.
A Clever Company
The Clipper Group Managing Director Mike Kahn told the E-Commerce Times that EMC is a very clever company and that will be demonstrated once again when the company has integrated Captiva's products into its offerings.
"This acquisition is one of many for EMC and the name of the game here is to build a complete portfolio of all the management functions that you need with respect to storage, with respect to the information life cycle and with respect to archiving," Kahn said. "That is what EMC is doing."
Kahn said EMC is also acquiring Captiva's customers. Captiva counts 50 percent of the Global 2000 among its more than 5,000 customers. But, added Kahn, many of those customers were probably already in the EMC family.
Transaction Details
The transaction is subject to regulatory and Captiva stockholder approval, and is expected to be completed in either late 2005 or early 2006.
When the acquisition is finalized, EMC said it expects to take a charge of approximately $15 million to $20 million for the value of Captiva's in-process research and development costs. Excluding this charge, the transaction is not expected to impact EPS in the first full year of operation.