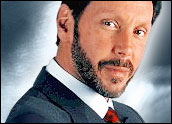 Oracle CEO Larry Ellison has once again sparked intense speculation about his company's next move, saying in a published interview that it might make sense for Oracle to be able to offer a Linux-based operating system and that his company is considering some acquisitions to make that happen.
Ellison also told the Financial Times of London that Oracle would not consider buyingRed Hat, one of the leading Linux firms, because the price tag would be too steep. However, the company has looked into the possibility of buyingNovell, which controls Suse Linux, and JBoss — which Red Hat recently announced it would buy — according to Ellison.
"We don't have to fight open source — we have to exploit open source," Ellison said in the interview. "I'd like to have a complete stack. We're missing an operating system. You could argue that it makes a lot of sense for us to look at distributing and supporting Linux."
Having a Linux operating system could make Oracle more of a threat to several rivals, including Red Hat and others in the Linux space, as well as Microsoft. Currently, the company, which built its reputation on database software, provides primarily enterprise applications, with a fast-growing product lineup, thanks to a rash of major acquisitions in recent years.
The comments from the brash, iconoclastic Ellison sent Oracle and Novell shares higher when they were published Monday, while Red Hat shares fell. In midday trading Tuesday, Oracle's stock price was up just under 1 percent to US$13.86; Novell shares were giving back some of their gains, falling 5 cents to $7.63; and Red Hat was still losing ground, dropping another 1.8 percent to $27.98.
Building vs. Buying
Ellison confided that the acquisition of JBoss by Red Hat has Oracle rethinking its own approach to Linux. Buying JBoss in a deal worth $350 million gave Red Hat access to several so-called middleware products, allowing it to compete with Oracle and others in the applications business with Linux-friendly productivity and back-office programs.
"Now that Red Hat competes with us in middleware, we have to re-look at the relationship. So does IBM," Ellison said.
Novell might not make sense as a purchase if Oracle is focusing on adding an operating system, since it offers a host of Netware applications that would overlap with Oracle's own product portfolio.
Because of the nature of the open-source platform, Oracle could conceivably build and market its own OS. Buying would save years of development and seems to fit more logically with Oracle's recent history, which includes the controversial purchase of PeopleSoft, its acquisition of Siebel Systems and its buy earlier this month of Portal Software.
Target: Microsoft?
The talk and possible action on an operating system seem most directly aimed at Microsoft, according to Business Intelligence Network analyst Pete Loshin.
"If a Linux company like Red Hat, already competing with Microsoft, could branch into the database business, then why shouldn't Oracle jump into the fray?" Loshin asked. Oracle undoubtedly knows how Microsoft has reacted in the past to threats to its core business, Loshin added — "just ask Netscape."
Still, Oracle could unlock significant growth if it could offer a tested and trusted operating system to go with its highly regarded database and applications offerings, Forrester Research analyst Noel Yuhanna told the E-Commerce Times.
Doing battle on the OS front through Linux would also be a way to counter Microsoft's gains in the database realm, he added.