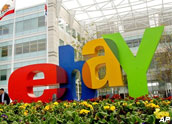 Online auction and fixed-sales giant eBay reported earnings that largely met expectations and set the outlook higher for the remainder of the year. The company also unveiled plans to raise fees in a bid to further boost revenues.
eBay posted earnings of US$250 million, down from $291.6 million in the year-ago period, mainly due to the impact of stock options accounting. With the stock options costs stripped out, eBay said it would have brought in 24 cents per share, matching the estimates of analysts.
Revenue for the quarter was $1.41 billion, a 30 percent increase over last year. eBay's online payment unit, PayPal, provided much of the boost, with revenue from that unit growing nearly 40 percent to $339 million.
CEO Meg Whitman said the quarter was a "good" one for the company, "driven by solid growth across eBay, PayPal and Skype."
eBay also announced plans to buy back up to $2 billion worth of its own shares over the next two years. That plan, Whitman said, "underscores our confidence in our ability to generate strong profitability and cash flows while investing in the future of the company."
Fees Going Higher
In addition, eBay said it would raise new insertion fees for online stores from 2 cents to between 5 cents and 10 cents, and raise the final-value fees charged on store items that sell for less than $100.
Those moves are aimed at moving more items for sale into its main listings area and out of sellers' eBay stores. The company said stores were becoming too crowded with items, diminishing the overall eBay experience for buyers and sellers alike.
"The marketplace has been overwhelmed with identical, often poorly-priced items that have diluted the magic of the eBay experience," Whitman said. The changes have manifested themselves in the form of fewer return visits, higher exit rates and fewer bids per listing, she added, as well as lower conversion rates and fewer successful auction listings.
eBay also said its Skype VoIP unit had grown by 20 percent in terms of registered users, with 113 million accounts at the end of the quarter, up from 95 million in first quarter of 2006. Revenue from Skype was $44 million, up 26 percent from the first quarter.
The company added that the quarter could have been better, but that it experienced a significant decrease in the amount of bidding taking place when World Cup soccer matches were being played. That tournament ran through most of the month of June.
Investors were buoyed by eBay's stock buyback plans as well as its outlook, which was upbeat for the remainder of the year. eBay said revenues for all of 2006 would be between $5.7 billion and $5.9 billion with full-year per-share earnings between 69 cents and 72 cents. Both numbers represented reaffirmations or even slight increases from earlier forecasts.
eBay shares were down about 1 percent in midday trading Thursday to $25.63.
Who's the Competition?
The attempt by eBay to convince sellers to use auction listings more often is somewhat ironic, given eBay's own aggressive move into the fixed-price, store-style sales space. That move is expected to make eBay more of a direct competitor with Amazon.com and other e-tailers.
Now, eBay may be recognizing that making its site into too much of a traditional retail outlet actually detracts from what has always made it unique, said Forrester Research analyst Carrie Johnson.
"eBay's strength is its community and loyal users, and if it gets away from that, it might hurt its own cause," Johnson said. "People like eBay because they can find whatever they're looking for, but if it's broken up into sellers' stores rather in the main listings, it changes the user experience."
eBay appears to be seeing strong listings demand heading into the summer, according to Prudential Securities analyst Mark Rowen.
The strongest part of its year is still ahead in the third and fourth quarters, which include the back-to-school and holiday shopping season. eBay is also operating in enough international locations, Rowen added, that slowdowns are smoothed out by it geographical reach.