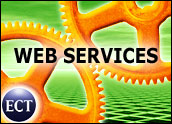 For the second time in less than a week, a company has debuted a service and billed it as the eBay for software, with Web services the target this time.
StrikeIron Inc., a North Carolina-based firm that helps commercialize Web services, announced it was creating the StrikeIron Web Services Marketplace in order to help smooth the process of publishing, finding and buying Web services.
Evolving Niche
The marketplace includes a self-publishing capability for providers of Web services applications and tools for users to order subscriptions and download and integrate software and will be capable of handling payments and usage tracking. One benefit may be to allow for micro-transactions, such as small-scale uses of a Web service rather than a long-term license purchase.
The service marks "the next evolution in the market for the buying and selling of XML-based Web services," said Bob Brauer, president and co-founder of StrikeIron. "Now, any Web services innovator can take advantage of our Web services e-commerce infrastructure, tools and online services to significantly reduce go-to-market costs and accelerate their visibility and adoption in the industry."
The marketplace will benefit users, Brauer added, by providing them confidence that the XML-based services on the site are secure.
Analysts said such a setup could help both small developers, who might not otherwise have a means for getting product into the hands of users, and the overall Web services marketplace by boosting overall usage of the technology.
Out of the Box
Targeted at developers who want to use the open architecture of Web services to enable business applications to be outfitted with data from various locations, the marketplace went live this week with some 50 different Web services available.
Those presenting their services so far include mainly niche firms that are far from household names, even among tech users, but may be on the radar screens of developers who are seeking to leverage Web services in existing applications. Those firms include Avalinx, Cdyne, DesertSoft, RealEDA, Relevant Automation, SourceKit and Xignite.
IDC Web services analyst Sandra Rogers said the platform may help create a more robust commercial market and accelerate the adoption of widely available Web services. Many services are so specialized that their creators cannot justify marketing them on their own or creating packaged software versions.
"The StrikeIron solution provides an online directory and infrastructure with commerce administration functions designed specifically for proliferating access of Web services between organizations," Rogers said.
StrikeIron is bidding the tool as a way to help businesses put Service Oriented Architecture (SOA) in place, linking CRM applications, and Web site commerce applications with real-time data from various sources, including external customer, company, and government data.
Services available now include those that enable real-time address verification, e-mail verification, reverse phone lookup, global SMS text messaging, and current information on state and local tax rates.
EBay This
The marketplace was announced just days after Salesforce.com said it would create an eBay-like marketplace for applications that work with its hosted software platform. That effort is also seen boosting small software makers by providing them a low-cost way to get into the marketplace.
Some analysts remain skeptical, however, that such arrangements will result in widespread sales, since many enterprises and smaller businesses as well have taken a cautious approach to vetting software before they purchase it and generally prefer to work with vendors directly in order to ensure they can receive support for their software if they have problems in the future.