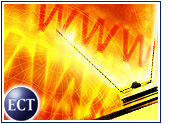 eBay (Nasdaq: EBAY) said Wednesday that it reached a deal with Columbia TriStar Television Distribution (CTTD), a division of Sony Pictures Entertainment (NYSE: SNE), to produce a daily syndicated television show focusing on "the stories behind the millions of items traded daily on eBay and other venues."
Slated for fall 2002, the series will be produced by eBay and LMNO Productions, the same company behind other reality TV shows such as "Guinness World Records: Primetime" and "Boot Camp."
The new collectibles show will be run during afternoon and early-fringe time slots, eBay said.
"To the extent that eBay can garner any audience via the traditional TV medium, it should boost awareness and interest in the auction style services it offers on the Web," Yankee Group analyst Steve Vonder Haar told the E-Commerce Times. "It tightens the links between the collectibles market and eBay, which drives much of its auctions."
Hot or Not
eBay is betting that it can move many of its estimated 34 million registered users into the lucrative television ad market, as well as tap into the large TV viewing audience that eBay says is made up of active collectors.
VonDerHaar said that the new series does not have to be an enormous ratings success to make the new series a smart move for eBay.
"Whatever size megaphone eBay generates for itself in traditional TV, it's a boost to the company's brand image and its efforts to drive traffic on a day-to-day basis," said Vonder Haar. "It doesn't have to have the ratings success of 'Who Wants To Be A Millionaire' to qualify as a successful business proposition for eBay."
Station Break
According to eBay, the new series will offer local TV stations a variety of cross-promotional opportunities, including online links between the station Web sites and eBay.
"Television stations around the country are consistent in their desire for programming projects that will have the versatility and quality to become long-term franchises," said CTTD president of programming Russ Krasnoff.
Long Time Coming
The idea of cross-promotion between traditional media and online retail is nothing new, Vonder Haar said, pointing to MSNBC and Yahoo's Internet Life magazine as examples.
In fact, eBay started taking steps toward such cross-promotion nearly a year ago. In October 2000, eBay and the Walt Disney Internet Group (NYSE: DIG) launched a co-branded auction site called Disney Auctions, which also offers ESPN and ABC merchandise.
At the time, eBay also announced its intention to create a TV show about its online auctions. ABC was reportedly the frontrunner in early negotiations.
Despite eBay's success online, the Internet auction house is moving into relatively unchartered territory with a reality TV show based on a Web site. Efforts to get TV viewers to carry their viewing interests onto the Internet, through interactive television offerings such as WebTV and AOLTV, have generally met with lukewarm response.