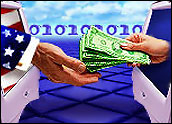 Small businesses are the true success stories of the Internet revolution, and further attempts to level broad taxes on Web sales and access would harm the ability of entrepreneurs to compete, according to eBay CEO Meg Whitman.
Whitman used a high-profile speech before the National Press Club in Washington, D.C., to urge lawmakers to steer clear of any new online taxes. While eBay, Yahoo, Google and Amazon make the most headlines, the Internet is the "best place on earth to start a small business," she argued.
"The Internet has leveled the playing field between entrepreneurs, small businesses and big brands," said Whitman. "The success of e-commerce is the success of millions of invisible pioneers in garages and spare bedrooms from New York to St. Louis, from LA to Sioux City. They have discovered the Net is the best place to start a small business, and they are going after their dreams of entrepreneurial success with a vengeance."
Against Net Taxes
Whitman said the original argument against Net taxes — that the medium was too immature to withstand such regulation — still applies.
"The Internet is still a young platform for job creation and economic success," she said. "I believe we should do everything possible to nourish its growth.
Whitman took aim at the Streamlined Sale Tax Project (SSTP), a proposal being pushed by many cash-strapped states and brick-and-mortar retailers to simplify online sales tax collection. Currently, some states require sales tax be paid on Net-purchased items, while others do not.
"The red tape would be enormous," Whitman said, citing requirements to track purchases by state and city and collect taxes accordingly and to file monthly or quarterly tax reports in each state where business is done. EBay has been a leader in the charge against the national sales tax, helping to form NetChoice, which has lobbied for a hands-off approach to Web commerce.
Pure-Plays Most Impacted
Forrester analyst Carrie Johnson told the E-Commerce Times that pure-plays like those who sell primarily through eBay, are the ones who would be most impacted by a streamlined sales tax, because most multichannel retailers already pay at least some.
"Consumers probably wouldn't stop buying, but the impact of complying with these types of regulations on a mom-and-pop e-tailer would be significant," Johnson said.
Meanwhile, while the presidential election means a temporary reprieve from the tax debate, the economic recovery may also help make it less urgent going forward, as state budgets move back into balance. Still, brick-and-mortar and multichannel retailers who are already paying the taxes will continue to lobby for change, Johnson added.
Helping Hand
Whitman's speech came just after eBay announced several initiatives aimed at highlighting small business and how it fits into the eBay business model. EBay estimates more than 430,000 people earn a living by operating stores through eBay.
EBay announced a partnership with GE Business Credit Services to help eBay sellers receive no-fee lines of credit. Sellers can get up to US$50,000 worth of unsecured credit and can land larger credit lines if they need to make specific purchases.
"One of the biggest hurdles many small business owners face when establishing or expanding their businesses is a lack of financing options," said Jeff Jordan, senior vice president of eBay North America.
The financing deal waives application fees and enables entrepreneurs to apply online for the funding.
Supporting Role
Separately, the auction giant's nonprofit eBay Foundation announced it would work with the One Economy Corporation, another nonprofit, to create a Web-based Entrepreneur's Center.
The site is aimed at low-income individuals — One Economy specializes in bringing technology into affordable housing projects in the United States — offering information on accounting, marketing, production and other business topics in both English and Spanish.
EBay Foundation was created in 1998 and funded with a pre-IPO stock grant. The foundation awarded $175,000 to create the center, eBay said. Whitman said the effort would "expand the opportunity for individuals in communities everywhere to start, grow and operate a business."