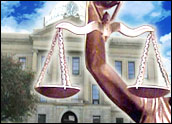 Call it a triple whammy against spam. EarthLink today announced four more lawsuits in its continuing fight against fraudulent and deceptive commercial e-mails. Meanwhile, Microsoft and Pfizer announced parallel lawsuits against two international pharmacy spam rings. It is just the latest barrage of lawsuits by each in the fight against spam.
The EarthLink four lawsuits were actually filed on January 18 in federal court in Atlanta against defendants in California, Florida, Nevada and Washington. They charge the defendants with sending unsolicited e-mails for cable descramblers, fraudulent college diplomas, discount ink jet printer cartridges, pornographic Web sites and brokerage services.
As in its previous spam cases, the ISP is asking for injunctive relief that will prevent the defendants from illegally spamming any Internet user, regardless of the user's ISP. EarthLink is also seeking unspecified damages.
Protecting the Internet
The defendants could not immediately be reached for comment.
"EarthLink is committed to protecting the Internet," EarthLink Assistant General Manager Larry Slovensky said. "We will continue to pursue litigation, technical solutions, consumer education and legislative support to help ensure the quality of the Internet experience for all users."
In their latest lawsuits, Microsoft and Pfizer are targeting spam rings operating Web sites that allegedly sell illegal, purportedly generic versions of Viagra, Pfizer's erectile dysfunction medication. The two companies have filed a total of 17 new actions against defendants allegedly involved in the sale and advertising of potentially dangerous medications.
Microsoft's suits were filed yesterday in King County Superior Court in Washington. Pfizer filed its actions in U.S. District Court for the Southern District of New York.
"The collaboration between Pfizer and Microsoft is another wake-up call to those who abuse the Internet for illegal purposes," Brad Smith, senior vice president and general counsel at Microsoft, said. "Leading businesses are teaming up, pooling resources and sharing investigative information to stop this illegal activity at the source."
Pfizer has filed civil actions against two Web sites that allegedly promote and sell products that are not approved by the U.S. Food and Drug Administration. Pfizer also filed 10 domain name actions.
In conjunction with Pfizer's suits against Canadian Pharmacy and E-Pharmacy Direct, Microsoft filed civil actions against the spammers advertising for those Web sites. In addition, Microsoft filed three suits against spammers who advertise other online pharmacies known under a variety of names, such as Discount RX, Virtual RX and EzyDrugStore.com.
Noting Past Victories
These lawsuits are the latest example of ISPs' multi-faceted fight against spam. EarthLink has sued and won multi-million dollar judgments against spammers, including a US$16.4 million judgment and injunctive relief against Howard Carmack, aka the "Buffalo Spammer," shutting down an operation that had generated more than 825 million spam e-mails on the Internet. EarthLink's pursuit of Carmack led to his criminal conviction by the New York Attorney General's office on charges related to his spamming.
Pfizer last August filed more than two dozen suits aimed at shutting down Web sites selling products under the name of Viagra or for trademark violations in their domain names.
Microsoft has repeatedly filed suits aimed to stopping spam.
John Mozena, co-founder of the Coalition Against Unsolicited E-Mail, told the E-Commerce Times that Internet service providers are motivated to fight spam because customers often blame them for the nuisance.
"ISPs typically spend a lot of time and money trying to keep spam from getting to their customers," Mozena said. "These lawsuits show their customers that they are trying to be part of the solution. Being anti-spam is good in the marketplace."
However, the lawsuits have not stemmed the tide of spam. "We do believe ISPs can have a global effect on spam through filing these lawsuits," Mozena said. "But it's the equivalent of throwing sandbags into the flood wall. It's good and you have to do it, but it's not going to solve the problem that the river is still rising."