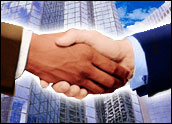 Continuing a trend it began almost two years ago, Microsoft said it has bought a privately held antivirus firm to help it beef up its arsenal of information security tools, this time focusing squarely on the enterprise.
Microsoft said it would acquire East Northport, New York-based Sybari Software, which currently has some 10,000 business customers worldwide for its message filtering products. Terms of the purchase were not disclosed.
"Enterprise customers face a complex set of attacks through their e-mail and collaboration infrastructure," Mike Nash, corporate vice president of the Security Business and Technology Unit at Microsoft, said in a statement. The buy will give Microsoft customers access to "a server-level antivirus solution that delivers advanced file and content-filtering capabilities and the use of multiple scan engines," he added.
Integrating into Software
Lucian Lui, director of product management in the security business and technology unit at Microsoft, told the E-Commerce Times that Sybari's third-party friendly approach was one strong selling point for Microsoft.
"Microsoft is committed to working within the partner ecosystem," Lui said. "Sybari does great integration work and their multi virus-engine approach was something that we know customers supported."
Lui also said customers have shown an appetite for buying both solutions and security features in a single package, with Microsoft already offering the Internet Security Acceleration Server. "We do believe that model of basically being a vendor that provides both is something that there is more demand for," he added.
The move immediately sent reverberations through the information security industry, as shares of the two largest publicly traded antivirus providers, Symantec and McAfee, were down sharply in morning trading today. Shares of Symantec were off nearly 5 percent and McAfee shares dropped more than 7 percent.
Analysts say that if Microsoft can effectively integrate antivirus protection into its software — which is no small feat — they could seriously decrease demand for third-party products.
Sybari's software secures messaging and collaboration servers against viruses, worms and spam. It does not include an antivirus engine, but works with those sold by most major vendors.
One Stop Shopping
Enderle Group principal analyst Rob Enderle told the E-Commerce Times the move is not a surprise given Microsoft's penchant for buying companies with ""good technology but [that] lack a strong sales channel to move it to market." That's particularly true in the security space, he added.
Enderle said companies will be likely to embrace server security software from Microsoft. "Companies are often more comfortable with security software from the source vendor because they feel it is less likely to cause problems and be better integrated then a third party product."
Customers might also feel more comfortable because the software works with third-party antivirus products.
Microsoft said the software would be outfitted to work with multiple versions of Microsoft Exchange and Lotus Notes, meaning that the same security software will work even when a business migrates to a newer version. Sybari also provides solutions for Microsoft Office SharePoint Portal Server 2003 and Windows SharePoint Services.
Enderle said the purchase might also be a window into how Microsoft feels about the security industry in general.
"I think Microsoft has come to the conclusion that the security industry is at cross purposes to their strategic goals," Enderle added. "The players in that industry go out of their way to point out flaws in Microsoft's products. Microsoft has concluded they need to address this behavior as the threat it is."
Ripples Felt
While Microsoft has spent millions developing its own security products and approaches, it is also on the lookout for small firms with strong technology, often targeting firms that fly low on the public radar but have good reputations with customers.
Last December, it bought privately held Giant Company Software and soon afterwards released a free test version of the firm's product under the name Microsoft Antispyware.
Before that, Microsoft sent shockwaves through the antivirus industry when it bought Romania-based GeCad Software, which offered a broad menu of antivirus tools.
Analysts have said that if Microsoft can effectively integrate security features into its flagship software, it could have an enormous impact on the demand for stand-alone antivirus products. In fact, many security firms have gone on their own acquisition sprees recently in order to add to their menu of services and products to lessen reliance on virus screening revenues.
Though the Sybari buy is aimed at enterprises, Microsoft is said to be preparing to launch its own line of consumer security products. An announcement might come as soon as the RSA Security Conference next week.