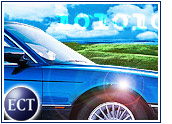 Online car sales site Autobytel (Nasdaq: ABTL) said Thursday that it turned its first operating profit in the fourth quarter. The company expressed optimism that it could remain profitable during the year ahead.
Autobytel president and CEO Jeffrey Schwartz said the company now is generating 4 percent of all U.S. auto sales. In 2002, he added, the company will focus even more on providing marketing services to auto dealers and makers.
Penny for Your Profit
Autobytel said it recorded a gross profit of US$210,000, or a penny per share. With all charges included, the firm lost about $900,000, or 3 cents per share — well below the $33 million it lost during the same quarter in 2000.
Revenue also increased, rising to $20.5 million for the fourth quarter compared with $16.8 million the year before.
Revving Up
Autobytel has grown, in part, through takeovers. The company now controls onetime competitors Autoweb.com and Carsmart.com.
And Autobytel already has posted an impressive comeback, at least on the stock-price front. In danger of losing its Nasdaq listing as recently as last fall, the Irvine, California-based company has seen its shares bounce back from below $1 to trade at $3.10 on Friday morning.
Much of the recovery came after Autobytel announced a partnership with Yahoo! (Nasdaq: YHOO), which will use the Autobytel family of sites to enable Yahoo! users to request quotes on new and used vehicles.
"By focusing on our core business, we are positioning ourselves to garner a greater share of the $21 billion spent annually by manufacturers and dealers on marketing and advertising services," Schwartz said.
Reduced Speed Ahead
Schwartz admitted, however, that as car makers pull back from the aggressive promotions that marked last fall, Autobytel will likely see flat revenue growth in the first half of 2002.
In fact, automobile advertising on the Web spiked sharply in the last part of 2001 as carmakers sought to get their zero-financing offers in front of as many consumers as possible.
Fueled by that advertising run-up and by consumer reluctance to move the entire car-buying process onto the Internet, other online car sites that originally aimed to become online marketplaces also have set their sights on becoming marketing conduits.
For example, MSN's Carpoint recently announced a multiyear marketing deal with Volvo, which will culminate with the debut of the automaker's new SUV on the Carpoint site.
Holding Firm
Other online auto sites are holding firm to the premise that more consumers not only will research car purchases on the Web, but also will seal the deal online. Privately held CarsDirect.com, which last year took over Amazon-backed Greenlight.com, is one company that is banking on more widespread adoption of virtual car shopping.
And there are reasons for optimism on that front. Jupiter Media Metrix (Nasdaq: JMXI) has said that up to 32 percent of all cars — $142 billion worth — could be purchased online by 2006.