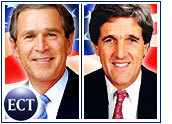 Among the many questions that might be answered by the presidential election on Tuesday is whether electronic voting can silence its critics by turning in a seamless performance or, instead, will fall prey to any of the number of concerns that have been raised.
This week, a number of major e-voting machine vendors submitted millions of lines of software code to the National Institute of Standards and Technology, which will store the code in the National Software Reference Library.
The gesture was meant to boost confidence in the machines that, by some estimates, will count nearly 30 percent of all votes cast in this election and won praise from some quarters, including elections officials who sought to have the code centralized.
However, several key vendors said they would withhold key proprietary code in order to protect their business interests, and critics remains active.
On election night, the Electronic Frontier Foundation (EFF) plans to station e-voting experts at what it calls "hotspots" around the country where electronic voting problems might occur. It plans to hold a press conference before polls even close to disclose any known issues.
The EFF supports verifiable e-voting and, because that's not widely in place, they are concerned about the e-voting in this election. The organization is not opposed to e-voting itself, however.
Security Concerns
Among the security concerns that have been raised is the possibility of someone being able to cast multiple ballots. Other concerns are about a sudden power outage and whether data would be lost in that scenario.
An actual hacking could only be done if the voting machines were on a network. However, results from many of the machines will transmitted to election officials remotely.
Some in the hacking community have challenged each other to attempt to disrupt e-voting come Tuesday.
Ironically, e-voting was turned to by many election officials as a way to reduce the human error and confusion that caused so much turmoil during the 2000 election. Counties in southern Florida, where the 2000 election was disputed for weeks after ballots were cast, have invested heavily in e-voting machines, as have counties in Ohio, California and Maryland, among other locations.
But how well those machines will perform, and how secure they are, is a matter of great debate, one that will likely rage on even after the election.
Casting a Shadow
For e-voting vendors, the election will occur under close scrutiny and a cloud of doubt raised by security researchers and others.
In California, e-voting machine maker Diebold is facing a rash of lawsuits alleging that machines it sold to some cities and counties there were not certified, as the vendor claimed.
The EFF says 10 counties in California plan to use electronic voting machines. The California Secretary of State has ordered those that do to have paper ballots available as an option for voters.
Other e-voting vendors include Election Systems and Software, Sequoia Voting Systems, and Hart InterCivic.
E-voting activist David Dill said the rapid adoption of e-voting systems has been driven by aggressive sales and marketing by vendors and that some jurisdictions may have moved too quickly, motivated by a desire to purchase systems and have them ready for the next big election.
Dill, a co-founder of VerifiedVoting.org, which will join the EFF in monitoring voting next week, said all voters should ask for paper verification of their ballots after they cast them in order to assure they're being counted.
"Technology has the potential to improve democracy, but the worry is that the opposite will happen," he said. In a close election, as Tuesday's appears certain to be, even a few thousand miscounted or lost votes could make the difference, he added.
All Systems Go
EFF staff attorney Matt Zimmerman, who will be stationed in Florida on election day, said concerns about e-voting are many and include a lack of proper education and instruction for voters. But the overriding concern is that many e-voting machines cannot have their results verified independently in a possible recount.
"We're telling voters to ask for paper ballots that can be counted and re-counted if necessary," he said.
Another concern about e-voting is the security of voting machines. Zimmerman noted that a study by Johns Hopkins University of a US$55 million e-voting purchase by Maryland last year found several security concerns, from software code that was published online to incorrect use of cryptography. One type of machine had a flaw that would allow a single voter to cast multiple ballots without detection.
Meanwhile, e-voting machine makers are also banking on the election to answer their critics. Diebold has said that in addition to submitting its code to NIST, it continues to pursue security certification for all of its machines.