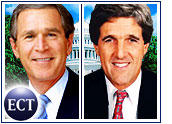 Hundreds of separate instances of electronic voting problems were reported in the U.S. during yesterday's elections, enough to give critics of e-voting ammunition for their continued battle against its use, but not nearly enough to affect the outcome of the election, as some had feared.
In a press conference late yesterday, representatives from the Electronic Frontier Foundation (EFF), VerifiedVoter.org and other groups that have raised concerns about e-voting said they had received more than 1,100 individual reports of e-voting problems to a toll free number it had established to monitor the e-vote.
The most common problem involved voting machines indicating that the candidate chosen was one other than that picked by the voter. In other places, e-voting machines were unavailable for stretches of time, causing delays, with machines in the supposed swing states of Florida and Pennsylvania among those that experienced glitches or slowdowns. Some activists said they witnessed voters leaving lengthy lines caused by such delays.
Cindy Cohn, a lawyer for the EFF, which has raised a host of concerns about e-voting — from potential lost votes to possible hacking — said it's logical to assume the problems reported are a fraction of those that occurred and that some voters might have miscast ballots without knowing it.
Still, given that about 50 million voters in the United States were slated to cast ballots on electronic machines, the outcome gave e-voting supporters reason to crow as well.
Vendors Vindicated
Yet to be resolved are lawsuits in California over machines sold by Diebold Election Systems, which election officials say they believed were certified when in fact they were not.
It's likely that e-voting protests will continue.
Still, vendors came out of election day with a key victory under their belt. Verified Voter spokesman Will Doherty acknowledged that it did not appear that one brand or style of voting machine was responsible for the bulk of reported troubles.
The biggest reported problem of the day appeared to be a false alarm. Election officials in Philadelphia said that counters that some observers thought showed votes had been cast before polls opened actually were counts of past votes cast on the machines.
About 20 Election Services and Software machines failed during part of the day in a key Florida county, but election officials had more than 5,000 machines in place, enough to handle the overflow, according to media reports.
Voters Confident
Voters across the country who cast ballots by electronic machine expressed widespread satisfaction with the process and reported experiencing few problems.
Pat Curry, who lies in Watkinsville, Georgia, a state carried by the president, has cast e-votes in several elections and said that while her machines did not print receipts, they did offer a chance to confirm votes.
Curry said the poll workers take the time to help voters who are new to the machines "There's a demonstration machine there to learn how to use it. I've never heard anyone say they had problems with using it while I've been at the polls," she said. "It would be good to get a receipt, but I never got a receipt with a paper ballot either."
Curry said she prefers electronic votes because the machines allow a voter to correct mistakes.
However, Baltimore County, Maryland voter Michele Wojciechowski said that while she is confident her vote was counted — and could be more easily, quickly and accurately recounted if necessary — and that e-voting might help eliminate some instances of human error, it lacks some of the charm of more traditional methods.
"With voting, I believe it's more important for the systems to be accurate than fun," said Wojciechowsk, whose state is considered a Democratic stronghold. Maryland is also one of the places targeted by e-voting critics after lawmakers there invested more than US$50 million in new voting machines that did not offer printed verification of votes cast and that showed security flaws under third-party testing. She said she was not aware of any problems at her polling place and that election workers took the time to walk those uncomfortable with the ATM-style machines through the voting process.
Looking Ahead
Enderle Group principal analyst Rob Enderle said the level of e-voting will likely approach 80 percent by the next presidential election.
"The concerns were largely unfounded, which should speed up the adoption of this technology," Enderle said. "Remember, ATM's and online banking didn't happen overnight either. A number of the initial systems had significant problems, which won't be so easily forgotten, but, in general, this showcased e-voting as a viable replacement for the legacy systems that had been in place, and there is little now that can stop it from becoming the standard."
Longer-term, Enderle thinks the e-voting movement and the rising level of absentee balloting and voting before election day — he likens it to taking an open-book test with no time limit — will pave the way for Internet voting.
Voting online, he added, is "potentially much less expensive, has no more risk than absentee ballots, and has the potential to better allow voters to legitimately enter the process late in the election cycle, avoiding many of the provisional ballot costs and issues experienced this year."