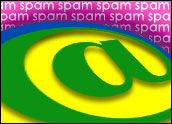 You've devised a brilliant opt-in marketing campaign, complete with an educational newsletter that's all the rage. Your sales are spiking and your list is growing.
Then it happens — some spammer uses phraseology that is similar to your corporate name or some malicious code writer launches a virus with a common word in your product description. Suddenly your permission-based e-mail is blocked by half the ISPs on the planet.
Frustrating, to say the least. But you are not alone.
The top ISPs blocked 22 percent of permission-based e-mail in 2004, according to a study by e-mail services provider Return Path. In fact, corporate e-mail considered spam by ISPs is a growing problem, up 3.3 percentage points over the second half of 2003.
It's a problem that's costing online marketers of permission-based e-mail messages millions of dollars per year. Jupiter Research reports that marketing messages erroneously blocked as spam cost marketers $US230 million in 2003. That figure will balloon to $419 million in 2008.
"E-mail deliverability success is up to each corporate mailer," said George Bilbrey, general manager of Return Path's Delivery Assurance division. "ISPs continually change their e-mail acceptance standards to deal with the increase in spam hitting their systems, so companies need to be vigilant about following the e-mail rules if they want to reach the inbox."
Is It the ISP's Fault?
So who is to blame for permission-based e-mail not reaching its intended destination? As Bilbrey noted, spam filters are often the culprit. Shannon Coulter, marketing manager at Lyris Technologies, an e-mail marketing and services provider, told the E-Commerce Times that ISPs aren't necessarily all that good at differentiating legitimate e-mail from spam.
"If an ISP notices that a certain mailing is being delivered to a large number of its customers, it might automatically start blocking or filtering that mailing halfway through," Coulter said. "That's a really unsophisticated way of fighting spam, because essentially what that ISP is doing is punishing big, successful organizations that have large in-house e-mail lists."
Blocking rates in the Return Path study varied widely by ISP, ranging from a low of 5 percent to a high of 36 percent. Companies saw the best delivery success at Earthlink, BellSouth, and CompuServe. The most blocking and filtering (36 percent) occurred at RoadRunner, followed by Mail.com (34 percent) and Comcast (31 percent).
"ISPs are trying to protect their subscribers from spam, and in the process blocking e-mail that subscribers signed up to receive," Bilbrey says. "Each ISP has different rules for blocking, and each company needs to keep up with those or use an outside service to do so. Otherwise, they will continue to see high rates of blocking, which limits their e-mail response rates and hurts consumer perception of their brands."
Jupiter Research director David Daniels told the E-Commerce Times that smaller or regional ISPs may just block the e-mail because there is too much volume on any given day.
"There are examples where some of the ISPs have been sending back messages that say 'address no longer exists' or 'out of office' or 'mail box full' as the bounce codes," Daniels said. "Sometimes that's because they don't have the resources to sort through everything. You have to be adept at understanding all the bounce codes."
Is It the Consumer's Fault?
But Daniels said it's not always the ISP's fault. Sometimes it's the consumer's fault. It seems some consumers are confused as to how to opt out of permission-based e-mail.
Daniels points to a recent Jupiter study that asked consumers how they opt out. Instead of clicking "unsubscribe" within the e-mail message, many of the respondents said, "click the spam button" on their mailbox.
"There are obviously still people that believe an urban myth that says you shouldn't unsubscribe from things because you'll get more mail," Daniels said. "Some of that noise in the data from people clicking the spam button feeds the spam filters at the ISPs."
Regardless of where the blame lies, there are ways permission-based marketers can avoid the clog. Daniels suggested sending the mail from a dedicated IP address. He said if you are working with an outsourced e-mail service provider, then it should be offering you a dedicated address as opposed to one that is shared among many marketers so that your company avoids guilt by association.
Daniels also recommended segmenting your transactional e-mail on its an IP address separate from your promotional e-mail newsletters. Since Jupiter has documented that there are consumers who use the spam button to remove themselves from promotional mail, a separate address will make sure your transactional mail isn't blocked.
"There are a number of delivery auditing firms that offer tools that allow you to check the content of your message before you ensure proper configuration," Daniels said. "They also allow you to identify if your message was delivered to the recipient's bulk folder or the primary folder."
Analysts said permission-based marketers should also examine delivery reporting on a domain level. The overall undeliverable rate may be 10 to 13 percent, but that 10 percent could be concentrated at one particular ISP.
Non-Technical Tips
Coulter said there are also some non-technical tips permission-based marketers can employ to help skirt the problem. First, post clear, easy-to-follow unsubscribe instructions in every single message you send.
"Use an e-mail marketing program or service that immediately and automatically processes those unsubscribe requests," she said. "Automatic administration of unsubscribe requests keeps your lists squeaky clean, and squeaky clean lists have higher rates of delivery."
Next, keep your bounce threshold low. In other words, don't wait for a message to bounce 10 times before you take that e-mail address off your list.
"Keeping a bouncing address on your list hurts your marketing metrics, and the ISPs don't like it either," she said. "Use a program or a service that'll remove those email addresses for you automatically after a small number of bounces. It keeps your lists clean, and your delivery rates high."
Making Progress
Despite the ballooning numbers, there is hope. Due to improved ISP efforts and sender authentication systems, Jupiter reports the percentage of permission e-mail being erroneously blocked will decline from 17 percent today to just under 10 percent by 2008.
"ISPs are all moving in the right direction," Daniels said. "Some of the ISPs are further along than others, but clearly there's an agreement among all of them that they don't want to be in the business of managing the reputation of the marketer's e-mail."