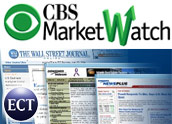 In separate moves that suggest strong desire among media giants to position themselves in the online news and information fields, Dow Jones agreed to buy MarketWatch in a deal worth US$519 million, while Yahoo announced it had hired a former Wall Street Journal Online executive to head its own news division.
Dow Jones will pay $18 per share in cash to acquire MarketWatch, the parent company of MarketWatch.com and a longtime leader in the online delivery of hard financial news, such as stock quotes and earnings reports. The sale price represents a premium of more than 7 percent over Friday's closing price. With some $56 million in cash on hand at MarketWatch factored in, the real value of the deal is closer to $448 million.
Founder and CEO Larry Kramer said having the backing of Dow Jones gives MarketWatch "a terrific platform to grow our business and compete with the largest media companies."
"This transaction supports our mission to be the market leader in licensed and advertising supported financial news and information," Kramer said in a statement announcing the deal.
Content Push Ahead?
The separate move by Yahoo, to hire former Wall Street Journal Online editor Neil Budde, might suggest that Yahoo knew it would have a battle on its hands in the online business news space.
Since Budde is credited with creating the online edition of the world's foremost business newspaper, it might also indicate more interest in creating content. To date, Yahoo has used its portal to aggregate news from various sources — much as competitor Google does with its Google News site.
However, that might be changing. Earlier this month, Yahoo hired an ABC entertainment division executive and charged him with bringing more unique content to the portal. Yahoo did not say what role Budde would play at the company.
One of Yahoo's strongest paid-subscription areas has traditionally been its premium finance news services, targeted to active stock traders. In fact, MarketWatch is a contributor of content to its business and financial news papers.
Yahoo might feel that having its own source of content is a competitive necessity as portal wars set up with MSN and AOL, which has the advantage of a deep pool of Time Warner content from which to draw. Under CEO Terry Semel, who has a Hollywood background, Yahoo has struck content deals with the likes of Sony and others aimed at bringing premium content to broadband users willing to pay extra for it.
In fact, Yahoo was reportedly one of several potential buyers of MarketWatch, which quietly put itself up for sale last month. The New York Times Co., which operates an extensive network of digital sites, was also said to have bid for MarketWatch. Viacom, the parent company of CBS and a part owner of MarketWatch, acknowledged that it was in the running to buy the company as well.
Content Still King
The moves come long after the new media frenzy of the late 1990s that gave rise to sites such as MarketWatch and a slew of others. The decline of traditional banner-style advertising and a lack of viable alternative business models — few sites have made subscriptions work, for instance — took the bloom off the new media.
However, the public appetite for such sites remains as strong as ever, and new models for selling advertising space on Web sites — led by the contextual placement efforts of Yahoo, Google and others — appear to have revived the sector.
Meanwhile, the Web has increasingly been the place where a growing number of people turn for news and information. Some observers say that the last two presidential elections and the aftermath of September 11, 2001, helped to solidify the Web's reputation as a source of solid and reliable news. Users also became aware of the Web's wider range of voices and viewpoints — in the form of niche sites and, more recently, blogs — than traditional media offers.
Jupiter Research analyst David Card said the purchase can be seen as a victory of advertising-supported content, which MarketWatch embraced, over paid subscription sites. Dow Jones chose to keep its site locked tight to all but subscribers, he noted, and has seen others grab the majority of the audience as a result.
However, Card said another important part of MarketWatch's business model is its syndication efforts, which accounted for more than half of its revenue in the most recent quarter, much of it from the Pinnacor acquisition.
"The syndication business is a nice fit with Dow Jones," Card said.
Developments to watch for, Card said, include which partners renew their contracts with MarketWatch and how Dow Jones integrates the two online properties.
"The culture that kept the site closed in the past is going to be hard to overcome," he said. However, he and others noted that Dow Jones offered a free preview of its site to those lucky enough to come across the Wall Street Journal Online last week. Whether that's a taste of what's to come remains to be seen.
Google Effect
MarketWatch is not the only online company that relies on advertising revenue to test the market for selling itself. Last month, interactive advertising pioneer DoubleClick announced it had hired a banking firm to help it explore its options, including a partial or full sale of the company.
The same merging of old-and-new media is happening in other niches and industries as well. Earlier this month, a consortium made up of SBC Communications and BellSouth said it would acquire online business search firm YellowPages.com.
"There is definitely a sense that this is a time to strike," Forrester Research analyst Charlene Li said. "Online advertising is slated to grow. Google has everyone rethinking the whole approach to the Web as a place to make money. After you get past search itself, it's only natural that part of that conversation would be about content."