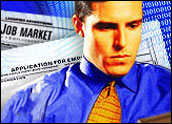 More than 4,800 employees of dot-com companies lost their jobs in September, making it the busiest month so far this year for pink slips in the Internet economy, according to a new report.
Chicago, Illinois-based executive search firm Challenger, Gray & Christmas, Inc., which has been conducting its informal tracking of dot-com layoffs for nearly two years, said it documented 4,805 layoffs this month, a 15 percent increase over August and more than double the 2,194 layoffs reported in July.
Down for the Count
So far this year, the search firm said, 17,000 dot-com workers have lost their jobs. The report's authors suggest that their count probably underestimates the number of layoffs because it focuses mainly on larger companies who receive media attention.
"There are loads of one, two and five-person dot-com companies out there that are closing up before we ever hear about them," said John Challenger, CEO of the search firm, in published reports.
Hardest Hit
Most recently, the heaviest losses have come from service companies, such as Internet consulting firms, the report said. Close behind are e-tail Web sites that focus on entertainment or health and fitness.
The report also said that unlike headline-grabbing worker cutbacks in more traditional industries, dot-com layoffs are often relatively small in number, with 10 to 100 employees losing their jobs in each announced layoff.
Profits Sought
The report does not speculate on what is causing the current rash of layoffs, but many dot-com companies are cutting superfluous positions with an eye toward profitability.
For instance, just days after Internet incubator CMGI, Inc. announced it would restructure its extensive holdings to focus on bringing as many of its companies into the black as possible, member firm Engage, Inc., said it would cut 175 people, more than 10 percent of its workforce.
Unemployment Line
The report comes amid a recent slew of layoff announcements, including:
Amazon.com-backed online sporting goods store Gear.com said Monday it will lay off 20 workers and restructure. Amazon itself laid off workers early in the year.
Late last week, Miadora.com, a luxury jeweler, shuttered operations and laid off all 77 of its workers.
Scour, Inc., the Michael Ovitz-backed music and video-sharing site whose investors have been frightened away by lawsuits against Napster and MP3.com, cut 52 of its 70 employees in early September.
Drkoop.com, one of the most high-profile online health sites, said in late August that it would cut its workforce by one-third.
While many of the worker layoffs tracked by the search firm are the result of bankruptcies, a report released earlier this year suggested that companies announcing layoffs are likely to collapse.
According to that report, job cuts are often a last-ditch effort to trim costs and remain solvent before a company is forced to close.