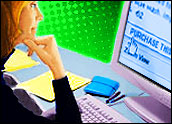 The business of providing small businesses with e-commerce hosting and support solutions is growing fast. The large-enterprise market is crowded, and competition is fierce. That has led an increasing number of e-commerce platform providers to enter the small and medium-sized business end, where they are looking to establish footholds.
Part 1 of this five-part series on do-it-yourself e-commerce takes a look at some of the factors driving the growth of the small business e-tail marketplace, as well as some of the major players involved. This second installment examines key issues and system attributes that aspiring e-tailers should consider when developing their business plans and choosing hosting and support solutions.
"[There is] a cacophony of hosted commerce platform vendors touting the latest and greatest features, industry expertise and lower price points — all inevitably on-demand," writes Tamara Mendelsohn, a principal analyst at Forrester Research, in a report released earlier this year.
"It's hip to be on-demand in a day when time to market equals time to revenue," Mendelsohn states, "but as vendors cash in on the new catch phrase, they create an increasingly complex landscape of solutions for retailers to navigate. To help narrow down options, sellers should first determine how they want to buy, deploy and manage commerce platforms."
A Host of Options
Hugely successful Internet and e-commerce pioneers — including the likes of Amazon, eBay, Google and Yahoo — are all making it easier than ever to launch online retail businesses.
"The Internet has become a critical marketing vehicle for a company's success, no matter its size. Google has always been committed to the SMB market, helping small and medium-sized businesses effectively use the Internet as a marketing tool to find new customers in the most efficient and effective ways," Emily White, Google's director of online marketing and operations, tells the E-Commerce Times.
With technology advancing at a head-spinning pace, however, it's easy to get caught up in the hype and make costly — potentially fatal — mistakes. An old retailers' maxim holds true today in the online world: Once lost, a customer's trust is difficult to regain.
"For firms that don't have the resources to own and manage their commerce platforms in-house — more than half of U.S. SMBs plan to go with some version of a hosted e-commerce solution — there are a number of vendors that provide everything from licensed platforms to 'on-demand solutions,' a much touted and misused term in the hosted market," Forrester's Mendelsohn writes.
Buying, Deploying and Managing
"In a market as fragmented and confusing as this one, where each vendor's version of this catch-phrase offering is different, it's no surprise that technology buyers have a hard time keeping [them] straight. To decipher the different offerings, online sellers should first determine the answers to three questions — how do I want to buy, deploy and manage my commerce platform? — and then find the vendor that meets their requirements."
Mendelsohn advises aspiring e-tailers to zoom in on three fundamental factors when considering how best to develop their presence in the online retail space: ownership financing, deployment and management.
E-commerce hosting providers now typically offer ownership financing and deployment based on shared instance, essentially leasing servers, software, support and data center operations to their small business clients.
This usually entails the e-tailer licensing its use of marketing, sales, order entry, management and payment processing applications — along with associated back-end information systems support — for a flat monthly fee. Pricing can be linked to such variables as number of site visits, online order volumes or sales revenues.
"NetSuite hosts an integrated suite of CRM (customer relationship management) and ERP (enterprise resource planning) applications for small and medium-size businesses that includes NetCommerce, its hosted online storefront," Mendelsohn notes, "which, tightly coupled to the back-end applications, enables a comprehensive analytics dashboard." For example, e-tailers might pay a flat monthly fee based on users, modules and hosting in a shared instance environment.
E-tailers need to clearly define their needs, expectations and goals before setting out on the search for an e-commerce platform or hosting partner, ProStores' Director Julian Green agrees. Formed by eBay in late 2004, ProStores launched its full-service e-commerce solution in mid-2005, following eBay's acquisition of Kurant's StoreSense technology.
"Start with the right solution," Green emphasizes. "Merchants should be clear about their objectives and try to understand which solution best suits them for their current stage of development. … Owners should focus first on the core elements of running their business, … which include inventory management and order processing. They also should try to make sure that the solution they choose gives their business room to grow, as changing solutions can be costly and disruptive."
Getting Past the Hype
Dig your way through the crowded and somewhat confusing marketplace, however, and it is clear that building your own online retail business is simpler and far more affordable than it has ever been.
"As you can probably guess, easy to use Web-based tools that enable SMBs to create attractive Web sites with e-commerce storefronts are the key technology enabling this market to develop," asserts Philbert Shih, senior analyst for Web hosting services at Tier1 Research.
"The tools have become much more user-friendly over the years, and literally anyone can learn how to use them. The absence of such a tool would dissuade many non-tech-savvy SMBs from taking the plunge into online selling," he tells the E-Commerce Times.
Web application integration has been a key to the development and growth of small business e-commerce hosting. Like others of its class, ProStores' platform includes integration with PayPal and other major payment gateways, in addition to shipping, order management, accounting, design, customer management and other business solutions.
"One of the key technological developments in e-commerce is the sharing of application programming interfaces (APIs) that enable product integration enhancements," Green says. "For example, ProStores 7.1 provides merchants with a quick and simplified way to add credit card processing through PayPal Website Payments Pro to their ProStores Web store. The process is now automated on the back end for ProStores merchants with PayPal Business accounts to set up the service in one simple step."
Integration has also been a key to enabling multichannel sales, order and inventory management, he adds. ProStores' store owners, for example, can list products on eBay, which generates additional store and site traffic. ProStores and other vendors also allow merchants to list product offers on e-tail sites such as Yahoo Shopping, Shopping.com, Shopzilla and Froogle.
In addition to implementing comprehensive e-tailing features and functionality, gaining customers' confidence and trust — the first and every time they buy — is critical to establishing a successful retail business, whether it's online, in the mall, or on the corner.
"Quality of the site plays a big factor. Additionally, trust marks — such as Verisign [and] Secure2U — and major payment systems — like Visa, MasterCard and PayPal — create the initial trust. Most important, however, is communication. The customer has to be able to contact [the seller] and get the right answers easily and efficiently," Sarath Samarasekara, CEO of Calgary, Alberta-based Shopster.com, tells the E-Commerce Times.
"In terms of the vendors themselves, the amount of support they provide their SMB customers is critical," comments Tier1's Shih. "SMBs getting into e-commerce are learning so many new things and doing things they are not familiar with. Having a friendly, knowledgeable helping hand is critical. … Without it, they would not be able to operate a viable e-commerce service."
Do It Yourself E-Commerce, Part 1: Now Bigger and Better
Do It Yourself E-Commerce, Part 3: Taking Care of Business
Do It Yourself E-Commerce, Part 4: Comparison Shopping Engines