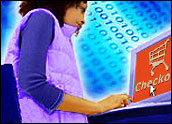 Want to be your own boss? Got an itch to try your hand at e-commerce but don't consider yourself a techie? Maybe you've got an eye for style, the next big fad, or just useful products. Or perhaps you have the pulse of a particular space, as well as the sales and marketing savvy to put an idea to lucrative use — but technophobia has forestalled your plans.
Well, here's some good news: A host of e-commerce tools and services are available that make it easier than ever to realize your dream of starting an e-tail business. You can either do it yourself from scratch or use a product right out-of-the-box and be up and running in a jiffy.
"There are literally dozens of hosting companies that help small businesses set up, design and host a Web site," said Philbert Shih, senior analyst for SME Web hosting services at Tier1 Research.
"Hosting companies offer a range of different plans, and there are always a few that are focused on equipping the site with e-commerce capabilities," he told the E-Commerce Times. "These offerings are sometimes built in-house, but it is common — and advisable — for hosters to use technology developed by a specialized software vendor."
In order to assist readers who are interested in small business e-tailing, this five-part series presents a bare bones "how to" outline to help get you started. This first installment takes a look at the small business e-tailing phenomenon itself, along with some of the factors — and players — driving its growth. Parts 2 and 3 will go into the nuts and bolts of building an e-commerce site and developing an e-tailing presence. Part 4 will cover channel and data management.
The Play
With job security a pale shade of what it once was, increasing numbers of Americans are considering the prospect of chucking their long-held corporate positions in favor of starting an Internet business.
Online retail sales will surpass the US$200-billion mark in 2006, a 20 percent increase over last year and double the mark set just three years ago, according toShop.org's ninth annual study of online retailing, which was conducted by Forrester Research. Total online retail sales this year are expected to reach $211.4 billion — $138 billion excluding travel, according to the report.
Online sales of computer hardware and software, at $16.8 billion, autos and auto parts, at $15.9 billion, and apparel, accessories and footwear, at $13.8 billion, are expected to lead the way. Growth rates for the pet supply and cosmetics and fragrance categories are expected to exceed 30 percent, surpassing all other categories tracked in the survey.
E-tail hosting is an active market space, and it's getting hotter. Shopster.com, which is based in Calgary, Alberta, is one of several companies that are providing aspiring online retailers with the e-commerce platforms and tools they need to launch their own businesses.
Shopster e-tailers, for instance, can pick and choose what they want to sell from the company's inventory of nearly 700,000 products delivered directly to customers from warehouses situated around the U.S.
"After searching for several tools, we decided to build our own, as the market didn't offer a solution which could meet the demands we expected from a system such as we envisioned," Shopster.com CEO Sarath Samarasekara told the E-Commerce Times. "Add to that a fundamental disagreement on what products to sell and markets to tackle, a huge disparity in actual technical know-how (on the part of potential e-tailers), and we ended up with a system rather than just a store — a system which could be quickly and easily customizable, driven from an easy-to-use interface, and which allowed each user to market in the way they thought best."
B2C (business-to-consumer) pioneers and industry giants are also big players in facilitating the development of small business e-tailing. Having initially concentrated on building their own e-commerce businesses, some of the first generation of online merchants — now big and successful — are leveraging their technology to help smaller businesses do the same.
The Players
Companies like eBay and Yahoo are joining wireless digital telecom links, blogs, wikis and online indexing tools for marketing and lead generation with innovative search and personalization software, customer product reviews, discussion boards and user forums — all in the interest of creating a more comprehensive, potent, and winning e-commerce platform.
Yahoo, through its Yahoo Small Business division, is an important player in this space, reported Shih. "In terms of pure play hosting companies offering well-received e-commerce hosting services, I would say some of the leaders areAffinity Internet (aProStores user),Web.com (aMiva user), andHostway (another Miva user), to name a few of my favorites," he added.
"Digital River is a huge player in the e-commerce hosting space," Shih continued, "but DR offers a full end-to-end solution, much like WebsitePros, [which] is mostly for larger e-tailers." However, it does offer e-commerce hosting for SMBs (small to medium-size businesses) , complete with an "e-commerce platform and a Web-based tool that customers can use to create their own e-commerce sites — much like the stuff offered by pure play hosting companies."
Fort Myers, Fla.-based Miva's e-commerce platform is being used by more than 100 hosting partners. While the Miva Merchant platform provides everything a small business needs to add complete e-commerce functionality to its Web site, Miva has a slimmed down version called "Fast Track" that is even easier to use, according to Shih.
eBay has got to be one of the most progressive — and aggressive — big players in the small business e-tail marketplace. ProStores, which eBay acquired from application systems developer Kurant, "is offered through a growing number of hosting companies — but unlike Miva, it is also retailed directly to small businesses looking to set up an e-commerce store," Shih explained. "An advantage of the ProStores offering is the close integration with the eBay marketplace, enabling SMBs to sell within the eBay marketplace as well as outside of that market."
Getting in the Game
Not to be outdone and seeing a relatively untapped and wide-open market space, Google recently introduced its Google Checkout e-commerce hosting supersite and application services platform. With its enormously deep pockets, Google seems to be ready for a large-scale foray into the e-tail hosting marketplace.
In what has become typical Google fashion, it is aiming to redefine the entire market space along the way. Its strategic e-tailing weapons of choice: a range of products and services including Google Small Business Services, the Google Checkout B2C e-commerce hosting supersite and innovative online marketing tools such as Google AdSense and AdWords.
"Small businesses need to be where their customers are — and, increasingly, that's online. As this trend continues, small businesses should embrace the Internet as the most cost-effective way to find new customers, whether they are just around the corner or across the globe," Emily White, Google's director of online sales and operations, told the E-Commerce Times.
"The new technologies that Google has introduced for small businesses, such as local business search and local business ads, provide companies new ways to effectively compete in the marketplace and drive sales. Local business and search ads allow companies to directly target local customers and drive people to their business whether they are online or offline," she continued.
White also noted that Google integrates many of its products and services, making it easier for the business and the customer. "For example, with Google Checkout, the checkout process is integrated with search and advertising, helping the users complete the cycle of searching, finding and buying. It's like a 'one-stop shop' for the shopper," she said.
When it comes to Tier1's overall outlook for e-tailing, "We are definitely upbeat about the e-commerce sector's prospects going forward, particularly in the SME (small and medium-size enterprise) segment," Shih said. "Small businesses are still just scratching the surface of the Internet's full potential. Many do not have Web sites or anything beyond a static business card site. As familiarity with the Internet grows, and the tools become easier to use, the sky really is the limit on how far this marketplace can go."
Do It Yourself E-Commerce, Part 2: Nuts and Bolts
Do It Yourself E-Commerce, Part 3: Taking Care of Business
Do It Yourself E-Commerce, Part 4: Comparison Shopping Engines