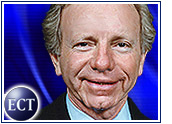 Speaking before a group of high-tech professionals gathered in Orlando, Florida on Tuesday, U.S. vice-presidential candidate Joseph Lieberman said that, if elected, the Democratic ticket would ward off efforts to impose taxes on e-commerce for the next two to five years.
The Connecticut senator, who co-sponsored legislation establishing the Internet tax moratorium, made his comments at the Gartner Group's Symposium/ITxpo 2000 during a question-and-answer session with Gartner CEO Michael Fleisher.
Lieberman's Republican counterpart, Dick Cheney, declined an invitation to attend.
Not Today, But Tomorrow
Although he said he would like to see the moratorium receive an extension for the next few years, Lieberman conceded that levies will eventually be imposed on Web purchases.
"It's not a question of if; it's a question of when," Lieberman said.
"We'll have to deal with this problem eventually," he added. "As e-commerce grows, there will be a rising chorus from state and local officials and retailers saying they are losing out."
Taxation Stumbling Blocks
One of the main stumbling blocks toward instituting the collection of such taxes, Lieberman said, is the vast number of federal and local agencies that would scramble to secure their piece of the Net tax pie.
With over 70,000 taxing entities nationwide, any solution to the problem would require authorities to navigate a complicated maze of federal, state and local regulations.
The ideal scenario would be an equitable application of sales taxes across localities on items purchased from either online or brick-and-mortar merchants, Lieberman said.
Easing Privacy Concerns
Lieberman also urged the high-tech industry to step up efforts to enact and police online privacy standards, especially when they relate to particularly sensitive information, such as medical or financial records.
Internet users should have the right to prevent their personal information from being harvested and analyzed, he said. Instead, they need to be offered more choices by the industry to opt-out of such collection practices.
"The best way to go is for this to happen in the private sector, for you all to acknowledge and anticipate the problem," Lieberman told the audience.
If the private sector does not respond to consumer privacy concerns, "then there will be a much more aggressive attempt to legislate."
To prevent full-fledged government intervention, Lieberman proposed the creation of an annual audit by an inspector general or an outside agency to oversee Web site privacy policies and practices.
Another Debate
Lieberman was not the only candidate running for office to talk tech Tuesday. As part of Web White & Blue's "Rolling Cyber Debate," in which politicians are asked daily questions on a host of topical issues, presidential candidates Al Gore and George W. Bush tackled the issue of Napster.
Although Bush did not respond to the Napster case specifically, he did say that he believes "we must find a way to apply our copyright laws to ensure that artists, writers and creators can earn a profit from their creations, while at the same time, adapting to and utilizing new technologies to deliver media to consumers in an Information Age."
Like Bush, Gore emphasized the need to protect file-sharing applications from encroaching on intellectual property rights.
"I think Napster is a terrific innovation, but I think we've got to find a way to reconcile this technology with artists' rights," said Gore.
Cerf's Up For Gore
In related news, Gore, who has been lampooned for once remarking that he invented the Internet, received an endorsement Monday from someone with a much more legitimate claim: Vinton Cerf.
Years ago, while working for the U.S. Department of Defense, Cerf was pivotal in developing the building blocks of Internet technologies.