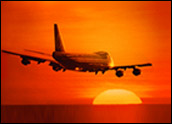 Delta Airlines has pulled it flights from three travel aggregation sites, including BookIt.com, CheapOAir.com and OneTravel.com. Delta will honor fights that were booked on those sites before its mid-December cutoff.
However, Delta did not opt to remove its listings from the travel site Orbitz, which itself is currently in the middle of a dispute with American Airlines. Last week, American and Orbitz failed to reach an agreement to review their contract. American flights will no longer be available to Orbitz users. American flights are still available on sites like Travelocity and Priceline
Orbitz acknowledged that American is gone from its offerings.
"It is unfortunate that as of Dec. 21, American Airline flights will no longer be available on our Orbitz.com and Orbitz for Business sites. We are confident that our consumer value proposition remains strong," Brian Hoyt, spokesperson at Orbitz, told the E-Commerce Times. The other companies involved in the disputes — Delta, BookIt.com, OneTravel.com, CheapOAir.com, American Airlines and Expedia — did not respond to E-Commerce Times' requests for comments by press time.
Expedia Retaliates
When American made its decision to not renew its contract with Orbitz, Expedia changed its search algorithm so American flights show up at the bottom of searches, behind links reading, "see more flights" or "show more airlines."
In response, American noted that its flights were still available on Expedia but pointed customers to Expedia competitors.
Expedia has chosen to no longer give American Airlines flights featured placement, the airline said. Therefore, customers looking to compare flights or fares online should visit other travel sites. The company specifically recommended Kayak.com and Priceline.com.
While American flights may not be featured on Expedia, American tickets can still be purchased through the site.
Airlines Are Looking for Higher Margins
American and Delta may be looking to increase their profit margins by avoiding commissions paid to travel sites.
"They don't want to pay commissions and want a more captured audience," Rob Enderle, principal analyst at the Enderle Group, told the E-Commerce Times. "When you have a service that sells at the lowest possible fares, your margins are low. Leaving those sites is certainly a way to raise margins."
Some airlines have avoided paying commission by not making their flights available at travel sites. "Southwest and JetBlue have their own sites — Virgin also works off its own site," Enderle said. "They have maintained high margins by not using aggregation sites. They're looking for the direct online experience as a way to raise margins."
In order to effectively dispense with travel sites, American and Delta would need to create a desirable customer experience that would drive customers to their sites. "Also, those other airlines have high customer satisfaction," said Enderle. "If you don't improve your quality or give the customers something else, you can't draw people to your own site. People will go to the aggregation sites and make purchases — they won't go to you."
Airlines Seek a New Business Model
American and Delta may be attempting to manage their customer relationships in a more direct manner.
"I think in general, the airlines are becoming much more disciplined in their approach to managing capacity," Sally McKenzie, an independent e-commerce consultant, told the E-Commerce Times. "Instead of taking a booking at any cost, they are moving in the direction of being more in control of how they sell their inventory by booking more flights with customers directly."
With major carriers like Delta and American pulling out of or scaling back their relationships with travel sites, the value of the aggregation sites may be undermined.
"One of the key issues at play here is the consumer's desire to compare schedules and prices across brands — if major carriers stop selling their inventory through travel aggregators, the value proposition for those sites takes a significant hit, and the airlines not appearing fall out of consideration," said McKenzie. "To some degree it's a battle for the customer relationship."