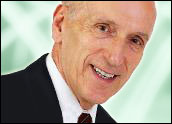 If I were to ask you what you thought were the main causes for business failure, what would your answer be? Lack of working capital; trying economic conditions; severe competition; obsolescence of a product? Actually, if you cited any of the preceding, you probably would be partially correct. I say partially, because there is one indispensable element that can protect a company from failure, and that element is a well-constructed business model. The fact is that one of the leading causes of business failure is a faulty or poorly executed business model.
"A business model describes the rationale of how an organization creates, delivers and captures value," according to Wikipedia. Note that the main thrust of the definition is about value and how you are going to both deliver and keep that value as you get it to your customers. It really is a simple concept. Yet I don't know of any business failure that can't be attributed, in one form or another, to a faulty business model.
The business model tells you why your product or service is unique and special, and how you differentiate yourself from your competition.
Flawed Business Models
Nowadays, it's easy to look around and find flawed business models. For example, General Motors had been operating with a badly flawed model for years. (Time will soon tell whether it's learned its lesson.) GM was making oversized, gas-guzzling vehicles that it thought the world wanted. Through it's ingenious advertising, it did create demand, in a sense, by christening some of its products with a "must have" veneer. An example of this is the Hummer, a civilian version of a heavy military vehicle made to protect our troops in combat. Such trumped-up demand couldn't withstand the withering realities of a steep economic downturn. Therefore, consumers turned to lowered-priced vehicles that delivered affordable miles-per-gallon.
While GM saw its sales plummet, foreign automakers saw theirs take off. The foreign car companies gave more thought to the viability of their business models, and they patiently waited while these models were proven in the actual marketplace. Ford Motor Company didn't fare as badly as GM, because it started tinkering with its business model a while ago and was nimble enough to put a new business model into place before the bottom fell out of its business. I'm sure the executives at Ford were asking themselves questions like "Who are we?" "Why is our product different?" and "Why will customers choose our autos over those of other companies?" These are the questions that good managers ask when they are putting together their business models.
Google's Business Model
Just think about Google's challenge when it was first founded. It had to create a search engine that would go head-to-head with Yahoo and other established search engines. But, even before its search engine came into being, Google was working on its business model so that it could best define how it could create and deliver unique value. That its business model was different from other established search engines allowed Google to leap over the competition.
If we observe what Google is doing today in its relentless quest to bring more and more information to the consumer, it is obvious that the executives at Google are giving top priority to their ever-evolving business model. I have no doubt that they are constantly tinkering with it and are ceaselessly asking themselves "Who are we?" "Why are we different?" "How will the business landscape change, and how will we react to that change?" and "How can we continually reinvent ourselves in order to stay ahead of the competition?"
The Starbucks Model
I realize that Starbucks has had to close stores of late in order to control costs. However, if we reflect on the beginnings of this worldwide cafe business whose main product is coffee, we realize just how important a business model is. In my mind, starting a chain of coffee shops has to be one of the most difficult endeavors. For one thing, Dunkin Donuts is ubiquitous and has a widespread, established market. Additionally, coffee has to be one of the most difficult products to promote — not only because it has been around for many centuries, but also because its taste isn't necessarily easy to differentiate.
Starbucks must have realized that its main product, coffee, was totally mainstream and widely used. To get a foothold in such a competitive industry, it had to create a model for success — a model that said, "If you come to one of our stores to have coffee, you will have a unique experience — an experience that not only delivers a recognizably different cup of coffee, but also a unique atmosphere in which to enjoy your cup of coffee."
I cite Starbucks, because it's an example of how a well-crafted business model can overcome what could seem like insurmountable obstacles to entrance. It shows the utter importance of asking yourself the questions like "Who are we?" "Why is our product different?" "Why will people choose our product over other products?" "How can we make customers keep coming back for more of our product?"
Folding the Business Model into a Business Plan
Before you start drawing up a business plan for your enterprise, you should start with creating a business model for your product or service. Once you have that model properly crafted, it's an easy thing to make it a part of your business plan.
The business model is the heart of the business plan, and no business plan is complete without having a soundly crafted business model at its heart.
Keep tinkering with your business model. Life is constantly changing. Your competition is constantly changing. New products or services are constantly emerging. Your lifeline to windward during trying economic times is a sound, up-to-date business plan. Don't leave port without it. Good luck!
---
Theodore F. di Stefano
is a founder and managing partner at
Capital Source Partners
, which provides a wide range of investment banking services to the small and medium-sized business. He is also a frequent speaker to business groups on financial and corporate governance matters. He can be contacted at
[email protected]
.