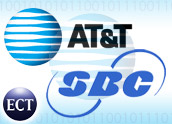 The end result of approval of the recent spate of telecom mergers might be a sharp reduction in the choice that both consumers and businesses have to access the Internet. This is the point that some industry and consumer groups are planning to argue to regulators.
While there are varying arguments about whether there will be any impact on end-user prices for long-distance, local calling or other telecom services, most observers agree that the Federal Communication Commission (FCC) and Federal Trade Commission (FTC) are unlikely to block the recent deals on those grounds.
However, because both MCI, which Verizon earlier this week reached an agreement to buy, and AT&T, which is being acquired by SBC Communications, control large swaths of the so-called Internet backbone, control of Web traffic could become an issue regulators scrutinize closely.
All Bundled Up
On one hand, there are several alternative backbone providers, and because of a glut of fiber optics backbone put in place during the dot-com boom, prices for buying wholesale access to them is low and dropping.
On the other hand, some groups say that the power to create compelling bundles of service might effectively result in reduced competition, especially for business Web traffic.
One worrisome scenario for some business groups, and one that will likely be raised to regulators, would be if large telcos offered different pricing for access to backbones to customers buying bundles and those who buy only the wholesale Web space.
Inexpensive access to that Internet pipeline is considered key because it moves everything from business data to Web transactions, often seamlessly and effectively enough that end-users rarely give any thought to the route that such traffic takes to travel.
Gene Kimmelmann, the executive policy director of the Consumers Union, said the limited choices of places to buy full menus of services might be a deterrent to vigorous competition in some segments of telecom.
Kimmelmann told the E-Commerce Times that both business and consumer customers prefer the single-vendor, single-bill option that bundling of services offers. However, over time, that could reduce competition in the backbone space, thus allowing costs to rise again, costs that would eventually have to be passed on to consumers.
Flare-Ups Ahead
"The entire industry has become focused on, if not obsessed with, the idea of bundling," Kimmelmann said.
The problem, analysts say, is that the same telecommunications entities that once co-existed in their own industry segments now find themselves competing on any number of fronts.
Regulator intervention might be necessary at some level to help iron out disputes over Web access, or in other still-emerging areas, such as voice over Internet protocol (VoIP) traffic, which travels over many of the same data networks.
Just this week, VoIP firm Vonage said it had filed a complaint with the FCC that its data traffic has been refused by the operators of some local high-speed networks.
"Should there be regulatory intervention? I think that it would depend on the circumstances," Theodore F. di Stefano, managing partner of Capital Source Partners told the E-Commerce Times. (Di Stefano also writes a column for this publication.) "The bottom line is that the consumer should not miss out on the major savings that are coming his or her way in the near term due to VoIP" and other industry advances, he said.