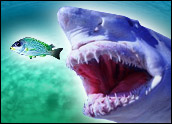 Corel on Monday announced it would acquire InterVideo in an all-cash transaction worth US$196 million.
InterVideo develops multimedia DVD software that lets users record, edit, author, distribute and play digital multimedia content on PCs and other devices. InterVideo's 2005 majority interest acquisition of Ulead allowed the company to gain traction in the nascent HD DVD and Blu-ray DVD solutions market.
Corel's acquisition of InterVideo will broaden its portfolio of digital media software ranging from photo sharing and image editing products to digital imaging, video editing, and high-definition DVD creation and playback software.
Global Growth Strategy
The firm was attracted to InterVideo for several reasons, according to the company, including its well-developed product line, strategic partnerships with leading OEM manufacturers, and an established presence in the Asia Pacific region as well as Europe.
Corel is betting InterVideo will provide it with added critical mass to serve a growing consumer demand for digital media software.
Corel already has a presence in Asian markets, including China, Taiwan and Japan — regions the firm has targeted for further expansion. InterVideo's development centers across China and Taiwan provide Corel with a stronger base from which to broaden its footprint in these key regions.
Corel's Resurrection
After losing market share to Microsoft in the late 1990s, Corel faded from the memories of many designers. Corel's resurrection began earlier this year when it held an initial public offering in May. The company has also partnered with Dell, Hewlett-Packard and others to expand its markets.
After selling off parts of its business — DAZ Productions acquired its Bryce product and Blast Radius acquired XMetal in 2004 — Corel began making some acquisitions of its own. Corel bought Paint Shop developer Jasc to extend its graphics software portfolio later that same year and scooped up WinZip computing, makers of an aftermarket compression utility, in May 2005.
The Acquisition Engine
"The InterVideo acquisition further builds out Corel's content creation line with one of the strongest codecs and DVD playback engines on the market. InterVideo is the most visible brand in the segment. It competes with Cybermedia, which offers a lower cost alternative. InterVideo has the visibility, marketing muscle and the products that sell aggressively on retail," Enderle Group Principal Analyst Rob Enderle told the E-Commerce Times.
Clearly on a multimedia track with picture and video tools, Enderle predicts Corel could decide to venture into music at some point with another acquisition. He compared Corel's acquisition strategy with Cisco's — buying small companies that build out a targeted portfolio.
The acquisition will be financed through a combination of Corel's cash reserves, debt financing, and InterVideo's cash and cash equivalents which stood at approximately $105 million as of June 30, 2006. The acquisition is subject to InterVideo shareholder approval, regulatory approvals, and other customary closing conditions. The transaction is expected to close in the fourth quarter of 2006 and to be accretive in the second quarter after closing.