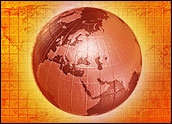 The global marketplace for broadband services is dynamic and growing. At the end of 2011, approximately 660 million households subscribed to an Internet service, and about 580 million — 32 percent of all global households — received broadband service.
The populous countries in Western Europe have high broadband penetration, but predictably, they are showing signs of slowing growth.
Germany is Western Europe's largest broadband market with over 26 million homes subscribing to broadband services, equaling a penetration rate of over 66 percent of all households.
France currently has the third-largest subscriber base for broadband services in Europe with over 22 million subscribers. The growth of broadband in France can be credited to a greater demand for high-bandwidth applications, the growth of fiber-based services, and governmental actions to promote broadband growth.
Broadband penetration among UK homes was 74 percent at the end of 2011, an increase in overall penetration of 3 percent during the year and 6 percent since the end of 2009.
The global recession and Italy's flagging economy have had a significant and negative effect on Italy's telecom sector. By 2011, approximately one-half of Italian homes subscribed to broadband service.
Spain's broadband landscape has been characterized by high prices and low data speeds relative to other European nations. Broadband penetration in Spain has increased over the past few years, growing to 65 percent of households by the end of 2011.
In many developed markets, operators now feel the inevitable squeeze of market saturation as household penetration rates for broadband approach or exceed 75 percent. In these markets, where most new additions are at the expense of other broadband providers, operators focus on retention strategies that incorporate benefits beyond mere price reductions.
These providers have initiated bundling to lure and keep customers, including broadband in dual-, triple-, and quad-play offerings. These operators are focused on deploying services with an eye toward capturing customers and maximizing the ARPU that broadband services offer.
Emerging Markets
There are multiple emerging markets where broadband penetration is just taking hold, following in the path of home PC penetration. In these countries, operators can benefit from new wireless broadband technologies and the lessons learned by their counterparts in more developed nations.
Most of Eastern Europe is in the process of telecom transition, moving from outdated and limited systems to newer, faster technologies. While the slowdown in the global economy served to slow investments and consumer uptake of such services, Eastern Europe continues to be a source of growth potential in broadband, and where infrastructure investments are being made, operators are integrating the latest broadband communication technologies. For this reason, certain areas of Eastern Europe are able to receive higher quality of service than are parts of Western Europe.
For example, in Russia, providers have invested heavily in infrastructure equipment, including fiber and wireless technologies for the last mile. Russia's communications network for broadband services is a patchwork of technologies, including fiber, cable, DSL and wireless broadband technologies, but with the heavy infrastructure investments, Russia has become a leader in FTTH/FTTB deployments, exceeding the volume of fiber found in many Western European nations.
Emergence of these markets in Eastern Europe and Latin America is just one of multiple trends impacting the global markets.
Trends Impacting Global Broadband Markets
Shrinking of DSL services in mature markets
Impact of PC adoption on broadband growth in emerging markets
Growth of usage-based business models
Growth of wireless broadband
Emergence of cloud-based services
The Shrinking of DSL in Mature Markets: DSL-based services are often the quickest to reach consumers since they rely on copper phone lines that are already installed in many homes. However, the growth of DOCSIS 3.0-based cable services and fiber-based services in mature markets is leading to a rapid transition of power among operators. Incumbents that have held power for years are finding a dwindling DSL subscriber base. This loss of subscribers is forcing many to invest in FTTx services in order to compete with cable operators.
The Critical Importance of PC Adoption. Emerging countries considering technology or broadband growth initiatives should include programs for computer adoption as a facet of their future growth plans in order to quickly move their population forward.
Usage-based Broadband Business Models. As broadband providers see revenue-per-bit continue to fall and the volume of usage continue to increase, many have come to the realization that flat-rate pricing will not be viable in the long term. Operators in most mature broadband markets will likely be forced to adopt broadband caps and to eventually charge for overages.
Over time, as usage increases or caps are lowered, an increasing percentage of consumers will exhaust their allowance and have to pay for additional capacity, impacting the growth and use of over-the-top services.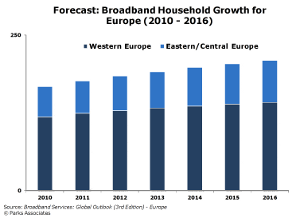 The Growth of Wireless Broadband. In the short term, wireless broadband will have a cooling effect on the wireline broadband market. In the longer term, as the number of wireless users increase, as wireline services move to 1 Gbps and beyond, and as wireline providers offer cloud-based services that leverage the high speeds of their networks, wireline services will again become the dominant connection medium.
The Future Growth of Cloud-based Services. Over the next several years, new companies will emerge that rely on a cloud-based delivery model for their service. Higher-speed services will allow for the rapid growth of virtualized, cloud-based services. New business models will emerge, and broadband providers will have a vested interest in capitalizing on popular services.
Future Investments
The compound annual growth rate of broadband subscribers in Western Europe over the next five years will be noticeably lower than that in Eastern and Central Europe. As growth in these western nations levels out, operators will need to develop popular differentiating options such as cloud-based services and second-screen synergies to stay competitive.
There are opportunities for infrastructure investment in Eastern Europe as well. The European Commission has allocated funds for the deployment of high-speed networks in Eastern Europe in order to raise coverage levels. Nations of Eastern Europe are chasing the progress made by their western neighbors, adding new high-speed broadband systems that leapfrog legacy systems offered in parts of Western Europe.
Large multinational operators are investing in or acquiring communication providers in Eastern Europe in order to leverage the growth that they cannot achieve in their home markets. Very soon these markets will also be open to new value-added services, so any new solution should be developed and evaluated with global markets in mind.