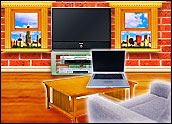 The global access and entertainment services marketplace continues its pace of dramatic change, as broadband services have achieved new levels of penetration and speed worldwide.
Emerging markets in Latin America, Eastern Europe and Asia are experiencing rapid growth, as many homes obtain high-speed broadband services for the first time. While penetration growth has slowed in mature markets in North America, Western Europe, and Asia, competition is driving an industry push to ever-faster service tiers, including gigabit-speed services.
Pay TV is experiencing a similar pattern in global growth — fast-paced adoption in emerging markets and heightened competition in developed markets. Companies in this industry are also struggling with the economics of TV and video services. Content producers face growing costs and are seeking higher licensing fees and international distribution to compensate for these operational expenses. These content costs are increasing more rapidly than pay-TV providers can increase their service fees, resulting in new standoffs, difficult decisions, and compromises.
Consolidation is another important element in this marketplace and will continue to grab headlines in 2015. As markets mature, large players will continue to seek scale and cost efficiencies, including both vertical and horizontal consolidation. Smaller players will increasingly struggle to match the budgets and service variety of larger, diversified players.
Streaming Media
Streaming is now a feature on almost every connectable device, including smart TVs, smart Blu-ray players, gaming consoles and microconsoles, tablets, and smartphones.
Broadcasters, content producers, and pay-TV providers are all expecting over-the-top (OTT) services to help capture new revenues and new consumers. The entry of pay-TV operators into the OTT streaming market will increase the competition for OTT streaming viewers, but also provides opportunities for streaming media device makers to stream video-on-demand (VOD) or linear TV through pay-TV apps on device interfaces.
Emboldened by the success of services such as Netflix and encouraged by increased consumption of online video, several new OTT video services will enter the market in 2015. Some, including HBO, Sony, and Dish Network, have already announced new OTT offerings for the U.S. market. Others will follow. In Europe, both traditional and new players will introduce new services.
Music streaming services will be another area of growth, which will drive development and new competition in audio hardware.
The Importance of Content and Differentiation
With increased competition, strategies to differentiate offerings will carry increased significance in the next year. CE makers will differentiate through content selection and services, as well as device features such as innovative interface controls. Voice control needs to evolve to natural language communication, and gesture controls need to be intuitive.
CE manufacturers can become content services aggregators and manage payment services for streaming content services, providing one place for consumers to register personal and payment information. Companies will be able to generate additional revenue through payment handling fees; however, they first need to ensure access to a wealth of quality content.
Providing interface access to any type of content, including OTT, VOD, and linear TV, is critical for growth. Content is king, and streaming media devices will benefit by providing proprietary content or unique aggregations of content. The winning solutions will also be able to manage personalized and targeted content recommendations, without overwhelming or losing the viewers.
A Shift in Viewing Habits
The video content market is seeing a fundamental shift in how viewers watch programming, requiring a new definition of what is called "television." For the past few years, non-linear video has claimed larger percentages of consumer viewing hours.
Since 2013 VOD comprised a majority of video viewership on all devices. Discovery Networks and FX Network have signed new streaming deals with Hulu, bringing such popular shows as Deadliest Catch and You're the Worst to the network TV streaming vehicle.
As online video providers stake their claim in the content space, providers seek to further redefine the experience with 4K Ultra HD video. Media Rights Capital produces House of Cards for Netflix in 4K, but most content providers have been in limbo with 4K because the televisions have not yet made it to the market en masse. However, the lower prices and strong promotions for 4K TV sets from retailers during the 2014 holiday season began to eliminate some of the uncertainty toward the technology heading into 2015.
4K is one differentiator, though, and video providers must have a clear monetization strategy. Netflix caught lightning in a bottle with House of Cards, and several OTT video providers are trying to repeat their success. Original content is expensive to produce, requiring a clear recoupment in order to make production worthwhile. As more video providers flood the OTT space, the competitive environment will lead to a surge in suppliers with little rise in demand. Different monetization models will be required, including targeted advertising, which is evolving in quality and capability.
Industry leaders and Parks Associates analysts will discuss the changing entertainment and smart home markets at CONNECTIONS™, in California this May, including:
Among U.S. broadband households, the volume of Internet video consumption on a television doubled, from 1.6 hours per week in 2010 to nearly three hours per week in 2014.
Broadband consumers under the age of 35 average less than seven hours of broadcast TV viewing per week on a television. Young consumers are also far more likely to say that online video is just as good as pay TV.
Google Chromecast has taken over second place in U.S. streaming media device sales, bumping Apple to third place. As of September/October 2014, 20 percent of devices sold year-to-date in the U.S. market were Google Chromecast, and 17 percent were Apple TVs. Roku retains the top spot.
Among U.S. broadband households in 2014, linear viewing on a television set barely had a slim lead on non-linear viewing at 51 percent and 49 percent, respectively. In 2015, non-linear viewing will be the majority of content consumed on the TV.
On average, U.S. broadband households watch 3.4 hours of Internet video per week on a television, just over 14 percent of total hourly viewing on a television set.