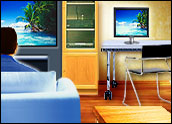 As the competition around video services has increased across all global markets, a common theme has arisen among the various players in the market: The interface matters. For video services, particularly those offered online, the user interface is the face of the service to the consumer. For this reason, the focus on the user interface for video services is higher than at any time in the past.
The technology used to view and find video content has changed drastically over the years, but the primary methods that consumers use for discovery have changed little. Channel surfing remains the No. 1 means of finding video content, with 56 percent of U.S. households using this approach daily.
Viewers' second most-common method is to scroll through a pay-TV programming guide. Of the U.S. households that subscribe to a pay-TV service, one-half manually discover new on-demand video content simply by browsing the on-demand guide available to them.
Over-the-top (OTT) services, eager to pull consumers to new on-demand services, offer access to content on a variety of screens. Consumers now can find their favorite television programs and movies online, on their mobile phones, and through Internet-connected gaming consoles.
These new viewing platforms also have paved the way for new discovery methods, including personalized, curated and social recommendations, all aimed at helping users choose content and tailoring the user experience to personal tastes and preferences.
The result of these developments is a battle over consumer attention. Because users have so many options when it comes to discovering and watching content, providers and platforms must develop better ways to reach their target markets — and they are doing so through the user interface.
Methods of Content Discovery
In general, the optimal method of video discovery depends on several key factors: the type of video service, the viewer, and the viewing environment. For example, browsing an interactive programming guide is a typical method of discovery for consumers using broadcast or pay-TV services, because these services deliver real-time programming.
Nested interfaces commonly are used for pay-TV video-on-demand (VoD) and some OTT services, which provide libraries of content that's accessible at any time.
Personalized recommendations are key features of OTT services like Netflix, Hulu Plus and Amazon Prime, and they increasingly are appearing in interfaces for pay-TV and other services. Personalized interfaces track preferences, actual usage and other factors, collecting information into a user profile that can be used to identify new content that the user is most likely to want to watch.
Interestingly, less than 60 percent of users on OTT sites use a recommendation feature to find content. The remainder either already know what they want to watch when they access the service, or they prefer to find video content on their own.
Search functions often are tied into OTT services for this very reason. Users who already know the exact title they want to watch can attempt to find it via a search bar or box within the program. Increasingly, search technologies also are leveraging personalization, taking advantage of user profiles to return search results that most closely match what users are likely to want to watch. However, search cannot help users who do not know specifically what they are looking for.
Tie-ins to social media data are another way to recommend shows and films to users, and many in the video industry are experimenting with the use of social data in recommendation and search tools. While social media may indicate what content currently is trending among viewers, social data may not return the best discovery results.
After all, while friends may have many commonalities, video preferences may not be among them. Most of the time, users are reluctant to divulge personal information, such as their movie-watching habits, to their social networks or to advertisers. Almost one-half of U.S. broadband households expressed a reluctance to share this information even with their spouse — so it comes as no surprise that only 20 percent would be willing to share with the general public.
The number of pay-TV subscribers with search-and-recommendation discovery features available to them through an electronic programming guide will reach 269 million worldwide by 2018; for multiscreen users, this number increases to 406 million. However, with data suggesting that an overwhelming majority of users either are not aware of pay-TV multiscreen services or do not care to use them, it will be up to service providers to bridge the gap between availability and actual usage.
Why the User Interface Is Key to Discovery
The user interface is key to this effort. The interface of any device or service is the main way a provider communicates with a user, providing either a positive or negative user experience. It is also the main way users interact with a service or program; in the case of video services, this generally means the ways a user discovers what to watch.
The fact that such a large number of people do not use recommendation discovery tools within the most popular OTT and pay-TV services points to an important reality about the user interface: No single content discovery approach is the magic bullet for all users. Rather, the discovery process involves several factors that depend on the user, the services, the situation, and even the device and applications used to match consumers to content. Issues such as utility and usability of the interface also significantly impact use.
For pay-TV services, the challenge is potentially greater. The data available through the pay-TV service is not as detailed as that available through an OTT service, so the pay-TV provider has fewer types of data to leverage. Additionally, pay-TV interfaces can be more difficult to search, due to the relative limitations of the remote control — which is likely why channel surfing and manual scrolling remain the top content discovery methods for pay-TV subscribers.
In response, several pay-TV providers and broadcasters are developing apps that allow viewers to use their mobile devices to discover content or transform their smartphone or tablet into a quasi-remote control. These apps allow consumers to program their DVRs, search for content, and even view certain videos on their mobile devices. Such functions provide users with greater freedom to find and select content through touch-screen technology, along with an easier way to type in search queries.
The Future of Video Discovery and Consumption
As TV-everywhere initiatives continue to develop, the role of the mobile TV app will continue to grow. Pay-TV providers already have developed apps that aid consumers in finding and selecting video content, but newer apps provide greater functionality and a larger set of features, including programming reminders.
The united interfaces between the mobile app and the pay-TV or OTT service platform additionally will drive greater use of content discovery features, as consumers will be able to more easily recognize a brand's platform and functionality across multiple devices.