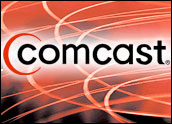 Hoping to bridge the gap between traditional cable television and the Internet, three heavyweights from the two fields said they had forged a partnership to develop ways to make the two data-transport channels more open to each other.
Comcast said it would work with Cisco Systems and Nortel as the first vendors to join the Open Transport Initiative (OTI). The company said the OTI's main goal would be to improve the interoperability between optical networks, where most TV traffic is now carried, and IP network layers, which handle most Internet-related traffic.
The Next Step
The two tech companies, whose gear powers much of the Internet as well as closed networks that are connected to it, said the goal was to provide carriers such as Comcast with "greater network and bandwidth agility." The first step will be to create a single set of interfaces that will enable Nortel's DWDM (dense wavelength division multiplexing) and Cisco's own IP equipment to inter-operate.
Since those two companies power many of the networks owned by major telecommunications and cable TV companies, having them work together will create more opportunities to have data move back and forth between cable television and the Internet.
"This collaboration is a natural and much-needed step in the evolution of network technology and the interoperability of multi-vendor networks," said Dave Fellows, Comcast's Chief Technology Officer. He said the two partners each bring significant "technology vision and expertise in integrating large, diverse networks."
The partnership was announced just as Comcast also disclosed it was establishing a standalone Internet division to focus on "content, commerce and communications opportunities on the Internet."
Convergence Ahead
The move could have major ramifications for the brewing war among cable TV companies, phone companies and others, all of whom hope to use the prevalence of broadband connections in consumers' homes to deliver a broad menu of services, from on-demand video and custom programming to Internet access and phone service.
Philippe Morin, general manager of optical networks at Nortel, said the partnership will "enable the removal of operational barriers that currently exist between IP and optical networks and establish an intelligent, high bandwidth service on demand network capable of delivering any service, over any path — optical or copper — with complete operational simplicity."
In theory such a scheme would enable a carrier such as Comcast to offer services to more homes and to offer much more highly customized services than is now available on traditional cable, where bundles of programming channels are typically purchased together. And by having a hand in establishing the framework, Comcast could gain a competitive advantage over its peers.
Glimpse of the Future
Telecom analyst Jeff Kagan said Comcast may already be previewing what the converged world will look like with its new lineup of family-friendly programming, also announced today.
"Most customers would choose the kind of bundles or programs that make sense for them as long as it would save them money," he said. "Cable television has gotten very expensive, but most customers don't watch most channels and the old way of doing things seems increasingly old-fashioned in an Internet, customized era."
"The economic model of the cable television business is about to change thanks to the government and to burgeoning competition from the local phone companies," Kagan added. "The current model supports skyrocketing prices and has for a long time. Government tried to change it more than ten years ago, but perhaps it is the threat of competition with the telephone companies and the arrival of the Internet as an alternative channel that will make the difference."
Various companies are eyeing different ways to bridge IP and optical networks. AOL has backed a startup firm, Brightcove, that converts video so it can be transmitted and viewed over the Internet, while Cisco purchased cable box maker Scientific Atlanta, a move analysts said could give it a tool for translating data back to TV form after it's transmitted across an IP network.