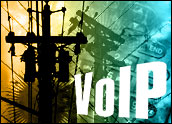 Underscoring the rapid maturation of the voice over Internet protocol (VoIP) market, two tech and telecom heavyweights moved further into the market today, with Cisco Systems buying a small firm that could help turn its home-networking unit into a VoIP player and Verizon announcing a solution to the enhanced-911 problem nagging the emerging technology.
Cisco said it would pay about US$68 million in cash and stock options to acquire Sipura Technologies, with plans to merge the firm with Cisco's Linksys home networking unit.
Sipura will give Linksys fast access to VoIP solutions for consumers and small-office and home-office users. Cisco is already a major provider of IP solutions for enterprises.
Rapid Growth Ahead
Separately, Verizon said it would offer a service to all VoIP providers that would enable them to have access to Verizon's Enhanced-911 emergency calling system. E-911 automatically identifies the location of a call to emergency dispatchers and has not been widely available with VoIP calling systems.
Taken together, the moves are the latest evidence that the VoIP market is poised for rapid growth. Analysts have predicted that the arrival of major brand-name telecom and technology companies into the space would speed consumer adoption.
Already a number of companies have taken aim at the market, which promises low-cost long-distance and local calling over broadband connections. America Online and Comcast are among the companies to debut VoIP services in recent weeks.
Wireless Approach
The Cisco move aims to build on the company's huge success in providing wireless routers and networking tools for homes and small offices and its history of providing VoIP technology to corporations.
Sipurda has provided software used in Linksys VoIP technology, such as analog telephone line switches for both wired and wireless networks.
Cisco spokesperson Elizabeth McNichols told the E-Commerce Times that Cisco has recognized growing interest among its consumer and small office customers.
"Certainly we've been involved with VoIP on the enterprise side for some time and lately the demand has increased tremendously on the consumer side as well," McNichols said. "The strategy here was a chance to bring on board a great team with great technology."
Sipurda also brings a number of key partnerships with regional VoIP providers, Cisco noted. The firm will be folded into the Linksys division.
Cisco cited data from Synergy Research Group showing that some 8 million home users worldwide use VoIP to make phone calls over broadband connections — a number expected to grow to nearly 60 million by 2009.
Clearing a Hurdle
The Verizon product, meanwhile, could offer an answer to what is one of the most often-cited drawbacks of VoIP: the lack of a standard for enhanced emergency calling. The service echoes a move by Qwest to offer access to its E-911 system to Vonage users in some markets, a deal announced just last week.
"Working with VoIP companies and their vendors, we have identified a means to route VoIP calls so that they appear in emergency response centers much the way wireline and wireless 911 calls do," Michael O'Connor, Verizon's executive director of federal regulatory affairs, said. He said the solution does not present security problems for VoIP networks, a concern raised about some earlier solutions.
Verizon said its service would be available in New York City by this summer, with additional cities being rolled out in the future if the Big Apple service proves successful.
Analysts say Verizon's approach could be a winning strategy by ensuring it access to a revenue stream from third-party VoIP providers, even those that might be wooing previous users of Verizon's wilting wirelines business.
Bundle of Services
Independent telecom analyst Jeff Kagan said consumers will take note as more well-known companies enter the VoIP fray. While early mover startups such as Vonage and Skype have made respectable inroads — with Vonage passing the 500,000 customer mark earlier this year and Skype recently saying it had passed the 100 million mark for downloads of its free-Web-calling software — the arrival of large telecoms will unlock the value of VoIP as part of a larger bundle of services.
A complete "excellent quality telephone, television and Internet offering will be what is necessary to win in the long run," Kagan told the E-Commerce Times.