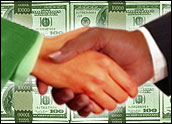 Cisco Systems today announced plans to buy privately held Protego Networks, part of a year-long acquisition spree aimed at rounding out Cisco's network security offerings.
Cisco said it would pay US$65 million in cash for Protego, which was founded in 2002 by two former Cisco executives and makes security appliances that monitor networks and detect anomalies in use as a means of spotting and mitigating security threats.
Good Fit
The appliances are meant to leverage self-correcting tools without hurting the overall performance of a network. Cisco has sold Protego products through a vendor partnership for more than a year.
The firm's technology is a good fit with Cisco's self-defending network effort, Richard Palmer, vice president of Cisco's security technology group, said. "The acquisition of Protego further emphasizes Cisco's commitment to network security, and their leadership in security monitoring, threat management and mitigation complements our ongoing work in security," he said.
Cisco indicated that the 38-employee workforce from Protego would be offered positions in its security group.
The latest buy caps a hectic year that saw Cisco scoop up a number of smaller companies, most of which had solid reputations for their technology in any given area. The firms bought included Netsolve, PCube, Procket Networks, Riverhead Networks and Perfigo.
Industry Trend
Cisco has helped lead a trend in the security industry in which large firms swallow up smaller ones in an effort to broaden their menu of products and services under the overall network security umbrella. The theory is that customers would rather buy multiple solutions — firewalls, antivirus, VPNs, etc. — from a single vendor that it trusts rather than dealing with the hassle of having a vendor, and a service contract, for each one.
Cisco hasn't stopped at rolling up smaller firms, however. This year it also reached and made network security agreements with IBM and Microsoft that stand to raise its profile as a provider of security solutions considerably, Gartner analyst John Pescatore said.
"The moves are very good for Cisco's business, but they also stand to be good for enterprise-level security protection, especially down the road," Pescatore said. The result, he added, should be products for the network that are in fact built with cutting-edge security technology in mind.
"More attacks will be detected and blocked at the gates" because of the security bundles that Cisco and others have put together, he added.
Well-Worn Path
The same strategy of building up security products is being used by Network Associates and Symantec, which last week made the biggest recent acquisition in the space by agreeing to buy storage firm Veritas for $13.5 billion.
Cisco, meanwhile, indicated it would ramp up its larger security strategy — known as Network Admissions Control — with a product blitz backed by key partners starting early in 2005.
Cisco said today that 15 partners would roll out products ranging from antivirus software to intrusion detection in the first quarter
"Cisco recognizes that no one company can solve the complex and ever-changing threat landscape," said Bob Gleichauf, the company's chief technology officer in charge of security.
Cisco shares were up modestly in late trading today to $19.06.