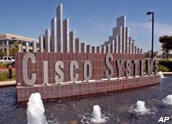 Networking gear giant Cisco Systems on Tuesday posted strong quarterly earnings and issued an upbeat forecast, which drove the company's shares higher and may raise expectations for the technology sector as a whole during 2007.
Cisco said it earned US$1.92 billion, or 31 cents per share, in the quarter ending in December, a 40 percent jump from $1.38 billion a year ago. Sales were up 27 percent to $8.44 billion.
New routers and related gear helped Cisco siphon business from rivals such as Juniper Networks in the Internet space, and its acquisition of Scientific-Atlanta was paying off with sharply higher sales of set-top cable boxes, the company said.
Acquisitions and Innovations
"Cisco achieved record results that were well balanced across our geographies, products, services, customer segments and new markets," said Chairman and CEO John Chambers.
Cisco is currently in a position to take advantage of "key emerging business and IT trends such as the rise of video on the network," Chambers claimed, adding that strategic moves such as acquisitions and innovation have kept the firm ahead of trends.
"As the network becomes the platform, we are seeing more and more signs that all forms of IT and communication are moving into the network and increasing the total available market to Cisco," he noted.
Cisco shares were up nearly 5 percent in morning trading Wednesday, rising to $28.52 on the earnings report.
New Bellwether?
Because its gear powers so many large-scale networks and because investing in networks often means additional spending on related technology — including software, services and training — Cisco has become something of a tech-sector bellwether in recent years.
Cisco's outlook was upbeat, largely thanks to growth in the Scientific-Atlanta unit, which Cisco bought in a $6.9 billion deal. That and the earlier purchase of Linksys have solidified Cisco's dominance as a provider of network infrastructure for the delivering data, voice and video to both corporations and consumers.
"Video continues to drive network demand," Chambers said.
In the current quarter, sales will rise 19 percent to 20 percent over last year's levels, a stronger outlook than most analysts had been expecting.
The company is also getting a boost from overseas sales, with sales in emerging markets rising 40 percent year-over-year. Cisco is making major investments in markets such as China and India.
Massive single accounts boosted Cisco's quarterly results as well, with the company shipping 11 of its largest routers — known as the CRS-1 — to the UK's largest phone carrier, BT Group. BT plans to use those routers, which sell for as much as $1 million apiece, to establish a broadband network.
Cisco also scored a deal with Bank of America to provide the gear to operate a new VoIP network.
Overall, set-top box sales were $639 million in the quarter, router revenue came in at $1.8 billion, sales of switches checked in at $3 billion and so-called "advanced technologies" brought in another $1.9 billion.
The advanced technologies sector includes Cisco's relatively new storage offerings, which Chambers said saw 45 percent sales growth.
Building and Buying
Already in 2007, Cisco has shown it will continue to make strategic acquisitions. Last month, it bought e-mail security firm IronPort for $830 million, a move that Gartner analyst Peter Firstbrook said would make the company an immediate player in the messaging security space.
That buy could serve as the foundation for a comprehensive security solution that covers all network traffic, including voice and video.
Meanwhile, Cisco's success was casting a glow on other network infrastructure players, including Nortel, which saw its shares rise more than 4 percent Wednesday after it announced another round of layoffs, and Juniper Networks, whose stock was up more than 3 percent.
Cisco seemed to benefit from an overall strong IT spending environment, one that should continue at least in the near term, according to analysts from UBS Investment Research. "Our value-added reseller surveys do not suggest any change in the positive enterprise spending environment," the firm said.