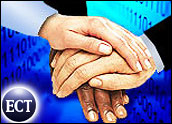 Cisco Systems this week completed two acquisitions aimed at augmenting some of its product lines.
The first acquisition, a US$173 million stock deal that closed Tuesday, involved privately held Hammerhead Networks of Billerica, Massachusetts. Hammerhead Networks develops software products that will expand Cisco's IP aggregation portfolio of cable, broadband and leased-line products.
On the heels of the Hammerhead wrap-up, the networking giant on Thursday announced the completion of its Navarro Networks acquisition for $85 million in stock.
Navarro Networks, a privately held company based in Plano, Texas, has design expertise that Cisco hopes will help it speed development of next-generation Ethernet offerings.
Bits and Pieces
Gartner analyst Mark Fabbi told the E-Commerce Times that both acquisitions flesh out parts of Cisco's overall strategy.
"The Hammerhead acquisition extends some of Cisco's platforms that they sell to cable operators," Fabbi said. "They are looking at adding some advanced service capabilities at wire speeds in existing platforms."
Cisco's intentions with the Navarro acquisition are less clear, but according to analysts, Navarro potentially can add higher-end services to some of Cisco's new Ethernet products.
"It wouldn't surprise me if Navarro is working on more capable, higher-speed packet parsing capabilities to add things like load balancing and content networking back into Ethernet switches," Fabbi said.
Reading Between Lines
Neither acquisition is likely to have a major impact on Cisco's revenue in the short or long term, according to Fabbi. Indeed, it is hard to discern Cisco's intentionsbecause one characteristic of this type of acquisition is a longer period of secrecy.
But when reading between the lines, the networking giant's motive becomes clearer.
Cisco funded both companies long before it announced plans to acquire them. The company previously has used this strategy to perform early research and development (R&D) without spending a lot of money up front.
Fabbi said industry-watchers should expect to see more of this type of activity from Cisco in the future.
"At least 50 percent of Cisco acquisitions going forward will be like this," he noted. "In the early days there was none of that, but lately there [have]been more and more of these targeted, self-funded acquisitions."
Cisco Targets
Analysts predict Cisco soon will make additional acquisitions in four key areas in which the company needs to beef up its technology. Optical switching, especially in the signaling area, is a prime target.
"On its own, is optical switching going to drive a huge amount of revenue?" Fabbi asked. "No, but when you combine that with other things, then it starts driving growth."
Other target areas are operational support systems that will help Cisco break into the carrier marketplace, additional acquisitions in the growing storage market, and service providers that could strengthen the company's voice capabilities.
"It wouldn't surprise me to see Cisco make a larger acquisition in the voice segment, because its strategy there is sort of all over the map," Fabbi said. "It's not that Cisco can't do it themselves, it's just a more expedient way of getting it done."
Cisco executives were not available for comment.