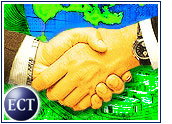 Juniper Networks on Monday announced plans to acquire rival Unisphere Networks in a move to compete with dominant telecom equipment provider Cisco Systems.
The deal had been rumored for months. However, analysts were skeptical because Juniper CEO Scott Kriens previously had taken a hard line against company growth through mergers and acquisitions.
The acquisition of Unisphere from its parent company, Siemens AG, involves a cash and stock deal worth about US$740 million. Juniper said it will pay a combination of $375 million in cash and 36.5 million shares of stock based on its share price of $9.85 at market close last Friday.
Q3 Close
"Our acquisition of Unisphere Networks highlights the Juniper Networks focus of supplying IP [Internet protocol] expertise to the leading service providers, carriers and PTTs throughout the world," Kreins said. "These customers will now be able to leverage the global reach of Siemens to utilize both Juniper Networks' and Unisphere Networks' proven IP experience."
The deal is scheduled to close in the third quarter of this year, Juniper said.
A Good Buy
Analysts said Unisphere is a good buy for Juniper from both financial and product perspectives.
"Juniper paid $380 million in cash for a company that, according to Siemens' books, is already generating about $200 million a year in revenues," Gartner Dataquest analyst Lawrence Orans told the E-Commerce Times. "There is a superior payback period there."
Unisphere also will give Juniper an industry-proven edge switch to complement its core offering.
"Juniper and Unisphere have some customers in common, so they can come out of the blocks demonstrating end-to-end solutions based on the two families of products," Jim Slaby, senior industry analyst at Giga Information Group, told the E-Commerce Times.
Challenging the Giant
Although Juniper is still far from overtaking Cisco in the networking market, analysts noted that the Unisphere acquisition should enable the new duo to steal market share from the reigning titan once the current economic storm has passed.
"Juniper has superior technology and the advantage of having a very strong focus on one product category," said Slaby. "They've expanded it with Unisphere a little bit, but they are not in 50 other businesses, the way Cisco is."
The acquisition also illustrates Juniper's willingness to change its model to reflect changing conditions in its core customer base. And having Siemens as a stakeholder should open some doors for Juniper in Europe.