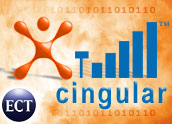 Cingular Wireless yesterday became the latest provider to announce an on-demand streaming video service.
Dubbed Cingular Video, the service debuts with a partnership with HBO and promises viewers personalized access to high-quality clips on high-speed-capable phones.
Cingular Video plans to begin offering customized content, including news, sports, weather and entertainment clips, early next year. Cingular is currently offering expanded ringtones, graphics and messaging, as well as exclusive entertainment content, including trivia and games, to consumers' wireless phones.
"With Cingular Video, consumers on the go can quickly and easily get the latest news and entertainment video clips anytime they want," said Ralph de la Vega, chief operating officer, Cingular Wireless. "Consumers are expecting more from their wireless service, and we've now made it possible for consumers to customize their phone menu so they are never more than three clicks away from their favorite content."
The HBO Connection
Cingular is partnering with HBO to produce exclusive mobile content on two new services: HBO Mobile and HBO Family Mobile. The services will offer select episodes; clips of "unforgettable" scenes and bonus material from award-winning HBO shows; cartoons; professional football commentary by HBO sportscasters; and never-before-seen comedy and sports.
"As this platform continues to evolve, we obviously want to be in business with the most innovative team in the wireless space," said Chris Albrecht, chairman and CEO, Home Box Office. "We also found in Cingular a partner that has great respect for the power of our brand. It is already a terrific relationship, which we feel will reap big benefits for both companies."
Now Playing on Your Phone
Downloadable content currently available includes messaging features that allow customers to read "Mob Lingo" from "The Sopranos" and ringtones that emulate the themes from "The Sopranos," "Sex and the City," "Rome," "Deadwood" and "Six Feet Under."
Customers can also download graphics from select episodes of "The Sopranos,""Sex and the City," "Curb Your Enthusiasm," "Six Feet Under," "Entourage," "Rome" and "Deadwood," and play games, such as "The Sopranos: Turnpike Trivia" and the "Sex and the City" trivia game.
Something for Everyone
Meanwhile, HBO Family Mobile provides educational and entertaining programsand segments designed for young viewers on the go, including "Crashbox," "ALittle Curious," "Frog Blues" and "El Perro Y El Gato."
Since some HBO Mobile content on Cingular Video is for mature audiences only,Cingular's recently launched Parental Controls feature provides content and purchase blockers on phones so parents can restrict access by younger viewers.
Short Attention Span Entertainment
Cingular's step is no bolder than other wireless providers' moves to market with streaming video services and partnerships, Phil Leigh, senior analyst at Inside Digital Media, told the E-Commerce Times.
"This is an incremental step, because they are limiting it to short form videos and trivia — stuff that fits with the short attention span mobile customers might have, particularly a youthful subscriber," Leigh said.
"This is just another step in the direction of the universal availability of video," he added. "At this time I think it's the right step to take, because the market is not ready for 30-minute episodes on cell phones."