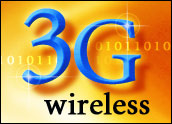 In a move to compete with Verizon, Cingular Wireless today launched its third-generation wireless network.
The new service is called Cingular BroadbandConnect, and is available to nearly 35 million throughout the United States. The company said it would continue to extend the network rapidly next year.
"Make no mistake about it: Wireless users want the speed and services they've come to expect from their wired connections. And today Cingular is delivering on its promises to provide both the speed and reliability customers need," said Stan Sigman, Cingular's president and CEO, at an investor conference in New York City.
Everywhere's a Hot Spot
Cingular said its 3G network is the first widely available service in the world to use HSDPA (High Speed Downlink Packet Access) technology. HSDPA is the high-speed evolution of GSM/EDGE (Global System for Mobile Communication/Enhanced Data Rates for Global Evolution), which shares a common core network.
Cingular will initially launch the BroadbandConnect service in Austin, Baltimore, Boston, Chicago, Dallas, Houston, Las Vegas, Phoenix, Portland, Ore., Salt Lake City, San Diego, San Francisco, San Jose, Calif., Seattle, Tacoma, Wash., and Washington D.C.
"With our 3G service, almost any spot in a city is a hot spot," said Ralph de la Vega, chief operating officer for Cingular Wireless. "BroadbandConnect complements our national high-speed EDGE data service, offering customers the flexibility and ubiquity required to be more productive as the world continues to go wireless."
Exclusive Services Coming
Cingular said said when coupled with a compatible device and service plan, the service provides average mobile data connections between 400-700Kbps (kilobits per second) on the downlink and bursts to more than a megabit per second.
BroadbandConnect combines a laptop modem card, Cingular's Communication Manager software and a Data Connect plan for use on laptops. Customers can use their laptops to access the Internet or e-mail, download large files and attachments, and run corporate business applications at broadband speeds in areas covered by BroadbandConnect.
Additional devices and exclusive services that take advantage of the high-speed HSDPA network, such as transmitting full motion video and providing ultra-fast audio, will be available in 2006.
Calling for New Phones
Burton Group Senior Analyst Mike Disabato told TechNewsWorld that the laptop modem cards, which retail for about US$100, are fine but the industry needs to focus on phones that work with the high-speed wireless networks.
"The biggest issue I have with the U.S. carriers in general is that this neat stuff gets announced and then we don't see it for a year and a half. I go to Europe and they are already using it," Disabato said. "So they need to cut down the time to market in getting the handsets out that not only look cool but work with the full range of data speeds."
Competing with WiFi and WiMax
Analysts said Verizon and Cingular have more to worry about that just competing with one another. They also have to look over their shoulder at WiFi, WiMax and 802.16e.
The sooner the high-speed networks are in place with embedded customers, the better the carriers will be able to fend off WiMax and WiFi hotspots, according to Disabato. But that is not the only challenge.
"The carriers need to make sure that in high-density locations, like airports, they are sufficiently provisioned to prevent the cells from saturating or it will slow everyone down," Disabato said. "In that case, you may not be able to get a connection at all."