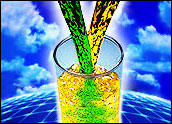 The chip-making industry appears to be entering a period of consolidation, with a series of deals announced Monday suggesting firms are seeking to expand their technology portfolios and reduce costs by merging with onetime rivals.
The largest of the deals calls for LSI Logic to purchase rival storage and communications chipmaker Agere Systems for US$4 billion. The all-stock deal is aimed at helping LSI produce more chipsets to operate a range of mobile devices, from smartphones to portable gaming devices.
Also Monday, mobile chipmaker Qualcomm announced two separate deals, saying it would buy the Bluetooth assets of RF Micro Devices, and that it had purchased next-generation WiFi chipmaker Airgo Networks for an undisclosed sum.
The deals come as chip companies are seeking to bundle together more functionality and offer hardware makers a single set of chips that can perform a range of tasks, from connecting users to the Internet through various channels, to operating devices and running graphics and applications.
Investors appear wary of the LSI-Agere hook-up, however, with LSI shares losing as much as 18 percent after the deal was announced. The shares had stabilized by midday Tuesday, trading basically even at $9.20.
Not Much Overlap
LSI's chips are found mainly in computer hard drives, DVD recorders and other devices, but the company has a far more modest presence in mobile devices, where Agere is much stronger.
The mobile market is considered key to chipmakers because it is by far the fastest growing segment of the computing and consumer electronics industries. In fact, last year the majority of PC sales were of notebook computers for the first time, a trend expected to continue.
Together, LSI and Agere will have about 9,100 employees. The merged company, to be known as "LSI," will be based in LSI's hometown of Milpitas, Calif., yet maintain some of Agere's current operations in Allentown, Pa. Job cuts are probable.
"It's likely in cases such as this there will be an overlap in functions," Abhi Talwalkar, LSI's president and CEO, said in a conference call.
The combined company would have had $3.5 billion in revenue for the 2006 fiscal year.
Talwalkar said the deal would give the combined company a leg up in several markets, including LSI's core market of storage chips, as well as in networking and consumer electronics.
The two companies had combined revenue of $3.5 billion for the 12-month period that ended Sept. 30. Together, they own more than 10,000 issued and pending U.S. patents.
Treasure Trove
The real prize in the deal, and the incentive that may lead to further consolidation, is each company's intellectual property and the opportunities for boosting product portfolios. Together, LSI and Agere will lay claim to some 10,000 granted or pending U.S. patents.
The merger has plenty of pitfalls, with the sheer size of the task of integrating another like-size company often one that trips up firms involved in such ambitious acquisitions.
"The deal is ambitious given the limited product overlap and manufacturing synergies," Merrill Lynch analyst Joe Osha said in a research note. In fact, both companies are largely fabless chipmakers, meaning they outsource most of the actual manufacturing work to third parties. Those areas are often where chipmakers can find significant cost savings, Osha added.
Other firms have followed similar strategies, with chipmakers such as Marvell and Broadcom already having rolled up smaller chip companies that developed novel technology.
PC makers and other hardware vendors are always eager to buy more chips from a single supplier, Gartner analyst Martin Reynolds told the E-Commerce Times.
"Having versatile chipsets and platforms available reduces issues around compatibility and eases the integration work" for hardware makers, he said. It also lends itself to cost containment by enabling them to strike larger deals with single vendors and eliminate the need to manage multiple complex relationships to ensure smooth supply chain operations.